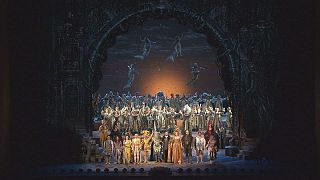 Imagine the arias that made Baroque music memorable: the best of Händel, Vivaldi, Rameau; build around it a contemporary libretto with a Shakespearean plot and you'll get a 'pastiche' – The Enchanted Island!
Plunging into the endless heritage of Baroque music to retrieve gems by Händel, Vivaldi, Rameau and many others; arias that may not be the best known but are wonderfully meshed up to create a modern 'pastiche'.
Around this unique soundtrack a Shakespearian plot, in English, has been devised. This is what New York's Metropolitan Opera has come up with. A superb cast has done the rest.
The project has been endorsed by no less a figure than Plácido Domingo: "I was carried away by this project, even if I only have a cameo role. I interpret a god, the god Neptune… but it's all kind of tongue in cheek.
"After all the big dramas I have to sing in opera, a bit of comedy won't do me any harm!"
Several characters are from The Tempest, such as the spirit Ariel, who is controlled by magician Prospero.
Soprano Danielle de Niese, soprano, brings Ariel to life on stage: "Ariel is complete prisoner, even as she moves on the stage: the legs are trapped, I have wings that are strapped down, and what I try to do with the character was to keep the character always in motion, like somebody who's trying to break free but slowly, and can never quite do that."
All the characters express feelings and emotions that are perfectly conveyed by the music of Vivaldi, to name but one of the composers involved.
Bass-baritone Luca Pisaroni, plays Caliban: "Caliban, the monster falls in love and then gets really angry when he finds out it was all a fiction; he's so desperate, and you understand he was really in love and thought he was not alone anymore… that someone was finally part of his life – being able to show these feelings over the two acts is very exciting!
"In the slow aria, when Sycorax, my mother, says 'Hearts that love can all be broken' I can't help going back in my mind to when I was a teenager, and I was so unsuccessful with girls… the moment I think of it I start crying!"
For Danielle de Niese and her character it was a liberating experience: "When I come out at the ending I'm completely adorned in gold… I'm free, then I have to sing, like, five hundred million notes! And it's only at the very last seconds that Prospero says 'you're free', and then she breaks off… So, it's great!"