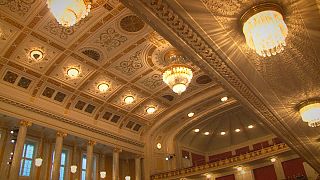 Vienna's Konzerthaus, the prestigious concert hall in pure Art Nouveau style, turns one hundred this year. To celebrate the anniversary top guests have been invited including the Vienna Philharmonic performing Beethoven's Ninth under the baton of the charismatic Gustavo Dudamel.
The Venezuelan Maestro has remarked how the Konzerthaus, which today includes four halls, has always tried to combine innovative musical styles with tradition.
"It's one of the theatres in the world where tradition is most rooted. Its name rhymes with profound tradition and the elegance of Vienna, of the Art, the musical art that is being created here," he said.
Beethoven's Ninth, which is on the UNESCO World Heritage list, is considered by some the greatest piece of music ever written. It is revolutionary also for its use of vocal soloists and a chorus in the final movement where the "Ode to Joy", a poem written by Friedrich Schiller, is sung.
"Beethoven's music is extremely beautiful but also, somehow, violent.When you look at his manuscripts it's wonderful because you can see how his mind uniquely works, it's like an obsessive labyrinth, with the complex structure and dynamics of his music accompanying that choral text which in the end is like a piercing cry to to the world.Through music, through that poem by Schiller, brotherhood is our daily duty.
'Joy is harmony, beauty, brotherhood, there's nothing more beautiful than sharing. When you share, joy comes with it, and when you share in harmony, in brotherhood, when you contemplate beauty, that's joy for me. The Ninth is a symbol of Humanity, a humanist symbol in our world!," he enthused.