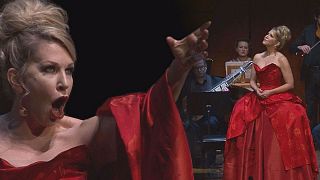 Joyce DiDonato, the American mezzo-soprano The New York Times defined as 'the perfect 21st century diva', has just triumphantly ended her "Drama Queens" tour, a series of concerts devoted to the great women of Baroque music.
Joyce is a clever, sensitive artist, well aware of the dilemmas faced by opera singers.
"I have to be in many ways extremely narcissistic: my instrument is my body, I have to think about rest, I have to think about health, making sure that when I arrive on the stage in front of a paying audience I'm 100 percent at my best. Then, at some point, you have to shed all of that, and I have to realize the act of performing in an opera has nothing to do with myself, with my ego.
'My job is to communicate the music, my job is not to be adored or to be assured that I'm loved by my fans. If I can make it not about me, in my experience that has been when it had the most impact and the richest experience for the audience," she explained.
Joyce believes in sharing her ideas on performing with tomorrow's opera stars, also through the social networks.
"My goal has always been, with the most secure technique possible, to convey emotion. And that means allowing myself to take risks on stage even if it's not gonna arrive perfectly in a vocal sound. So I think that's the challenge: learn everything that there is to learn, and then get your hands dirty, you've got to go out and live life! And bring all the wonderful schooling to this idea of the real meat and potatoes…I say 'getting my hands dirty' because opera's dirty, opera is alive and bloody and passionate! And we need to be able to access those things without the worry of remaining perfect. So opera is this conflict of these two different worlds, of passion and supreme musicality," she pointed out.
Unlike many experts of classical music, Joyce thinks there's potential for a huge audience for opera among a new generation – under certain conditions.
"We opera singers are revolutionary, we need to take this 'product' in its purest form! Which means great, beautiful singing, amazing emotion, great theatrics, and we need to present it without apology, and we need to say: 'you have no idea what you're missing out on!'," she concluded.
In this story, where Joyce DiDonato is accompanied by Il Complesso Barocco, you can hear fragments of the following pieces:
"Piangerò la sorte mia", Georg Friedrich Haendel;
"Da torbida procella" and "Col versar, barbaro, il sangue", Giuseppe Maria Orlandini;
"Lasciami piangere", Keiser;
"Madre diletta, abbracciami", Giovanni Porta
Joyce DiDonato's recent CDs are: "Drama Queens" (Virgin Classics), and her double compilation of greatest hits "ReJoyce" (Erato/Warner Classics).
For more excerpts of our interview with American mezzo-soprano Joyce DiDonato, please click on the following link:
Joyce DiDonato, much more than a Yankee Diva