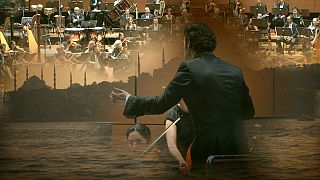 In Istanbul – the city which stands at the crossroads of Asia and Europe – an orchestra has become a prominent element of its vibrant cultural scene: the Borusan Philharmonic Orchestra.
Its owner is a wealthy Turkish tycoon. He loves Western music and wants it to become more popular in his country.
The orchestra is the flagship of a prestigious foundation which is active in various sectors of the arts: the Borusan Culture and Arts Centre, known as BKS.
"I'm one of the team. We don't consider this as a hobby. We have plans for the orchestra. It's also part of our motto – education – investing in people and also promoting culture. We are a small team, and we do music together," explained Zeynep Hamedi, who is the chairperson of the BKS.
The talented Austrian Sascha Goetzel is the orchestra's artistic director and principal conductor.
"I think that the Borusan Istanbul Phil is an orchestra with really magic ingredients; the average age is around 35 to 38, which makes them passionate, it's like a youth orchestra," he said.
Outstanding American baritone Thomas Hampson was recently invited to sing with this orchestra at a prestigious gala where they played masterpieces by Verdi, Wagner and Mahler, among others.
"I knew that the orchestra was like this, very musical, very appreciative, very energetic to make music with experienced musicians. The Lied "Eines fahrenden Gesellen" is the first time this orchestra, and probably most of the members in it, have ever played the piece – I find that exciting!" he enthused.
Sascha Goetzel believes because it is the first time many of their audiences have heard this music it forges a special link with the orchestra.
"In Istanbul, Turkey, many pieces which are standard repertoire in Western Europe have not been played, so it's really a pure, authentic, direct contact with the audience, and also for the musicians. It's an incredible, exciting journey because it's the first time – that's an incredible feeling," he explained.
Thomas Hampson's work with the Borusan Phil has led to a deeper understanding of Mahler as he pointed out: "One thing that I learned of Gustav Mahler? His own understanding of the now; the purpose of life, which became by the end of his life very existential, it became very much about compassion, doing your best with what you have to find the meaning in your life, and let the meaning of life take care of itself."
Sascha Goetzel summed up the meaning of the orchestra, one of their ambitions when he said: "One goal is to find our flavour, to find a characteristic in the orchestra. How can you find it? You must go with the traditions of the region, which is in Turkey, like in Europe, the dances, the rhythm dances."
"As an orchestra we do what we believe in, that's our difference, I would say. And in the language that most people will understand," concluded Zeynep Hamedi.
In this story you can hear fragments of the following pieces:
- Giuseppe Verdi's "La forza del destino", ouverture; and Seid's aria from "Il Corsaro" – Charles-François Gounod's "Waltz" from "Faust" – Gustav Mahler's "Lieder eines fahrenden Gesellen" – Ferit Tüzün's 4th movement from "Cesmebasi"
For more excerpts of our interview with baritone Thomas Hampson, please click on the following link:
Thomas Hampson – interview extras