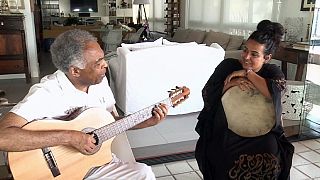 Mentoring is a teaching tool widely used in schools and universities. An increasing number of businesses are also relying on mentorship as a way to pass on knowledge and help boost opportunities. However, true mentoring is more than just answering occasional questions or providing help. It is about an ongoing relationship of learning, dialogue, and challenge. What makes a good mentor? How can he or she help a mentee progress? We take a look at some successful examples in this edition of Learning World.
Unemployment in the Arab World stands at around 15%, and the workforce is expanding all the time. Giving young people the best chance of finding a job has never been so important. One British NGO has set up a mentoring system to help young entrepreneurs. Young mother Nadine Asmar lost her husband four years ago in a tragic accident. She nevertheless found the strength to set up her own company. Being a mentee provided her with invaluable help, she says, as her mentor also took into account her personal circumstances. Nadine now runs a successful business and has become a mentor herself.
Our next example comes from Germany, a country that has long relied on mentoring for the transfer of knowledge. Professor Nele Graf is a university lecturer, the co-founder of a mentoring network and an author on the subject of mentoring. She says a mentor is more than just a teacher, it is also someone who takes care of you, while giving you the tools to make the right decisions. One surprising fact is that the mentor is not always the oldest of the two: a top executive can be the protégé of a colleague twice as young, who will teach him about the internet and social media.
And finally, Learning World takes a trip to Brazil. Veteran musician and former culture minister Gilberto Gil is mentor to up-and-coming Egyptian singer Dina El Wedidi through a programme connecting famous artists and young talents.
Dina has followed Gilberto on tour around the world and spent the Carnival period at his home in Salvador. She describes it as a very intimate relationship. For him, it's an unconventional process, all about the exchange of feelings, of music and of vision. "For every generation, music has always been a way to pass on a message," says Gilberto Gil.