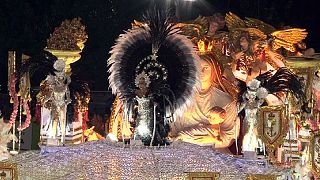 Samba is at the heart of the world famous Rio Carnival. An iconic dance and musical genre imported by African slaves and enriched with local rhythms and traditions of European settlers.
"The essence of samba is rhythm," says Gilberto Gil, the famous and well-regarded representative of Brazilian music.
"There are obviously other elements, such as its melodic and thematic varieties, but rhythm and syncopation are the main elements of samba."
Rio's carnival is known the world over for its colourful costumes and dazzling displays of dance.
"If you don't feel great or don't want to be happy, this is no place for you," said Junior Schall, a samba school director.
"If, on an occasion like this, where you wear these wonderful costumes and embody a certain character, you are not happy, then you really don't belong here."
Carnival events may only run for a short time in the city, but it takes a year-round effort to bring them together.
Members of the so-called 'samba schools' work flat out to ensure the celebrations live up to expectations.
The schools are often linked to a particular neighbourhood, often shanty towns, or favelas.
"I think that samba schools are part of Rio's magic. At the Carnival parade, you must be there to listen, and dance the samba, in your own way. You don't need to dance perfectly, you just need to express joy with your body," said Schall.
Gil added: "Brazilian society has adopted samba as its national music. And Rio de Janeiro is home to one of its many expressions: the samba from the samba schools, the samba of the favelas."
Carnival designer Rosa Magalhâes helped secure a win for the Vila Isabel samba school at this year's event.
"A samba school is a place where people meet and spend time together. Here there are no economic or social obligations. It's an open place.You don't have to be rich or poor. It's not a school as such, it's like a big club," she said.
Schall describes the carnival procession floats as being "like the relationship between children and parents. Those who dance on the floats give them life: through their soul, their joy, their passion. So our 'children,' as it were, will feel loved and cherished. Our children sing and dance all night, our children come alive!" he concluded.