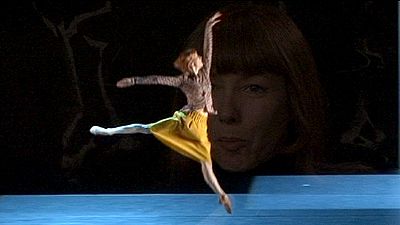 At 'Steps', the celebrated contemporary dance festival in Zurich, a name stood out among the top artists invited: French dancer Sylvie Guillem and her production '6000 Miles Away'.
She talks to euronews about her interpretation of Matt Ek's solo piece 'Bye':
"Bye has got to do with saying goodbye to childhood, goodbye to a certain type of career, goodbye to the kind of woman I used to be and am not anymore. Every day we say goodbye to something in order to find something else, everything is in progress and being in progress means turning many pages, one after the other.
"Years go by but I still feel like I am the same little girl. I can easily see myself in a school courtyard with the other 15 year olds! I feel like I haven't grown up on a certain level. That little girl, I feel, is still there.
A committed artist, Sylvie Guillem supports an NGO which fights to protect the seas:
"I have always been attracted by passionate people. These people really make my day! The people at Sea Shepherd are passionate. Somebody asked me: 'Why bother with fish?' First of all, whales aren't fish! Let's not forget that the sea, the oceans, are like vital organs and people still don't give a toss! I took up their cause right away and yes, I do support them!"
A political commitment which goes hand in hand with her artistic awareness:
"As soon as you set foot on stage you are definitely living in the present but that present time has an other dimension, it is extra-ordinary. When you step onto the stage you step out of the ordinary, time stretches out and the here and now is wonderful.
"I used to ignore what my body was telling me, that is one of the privileges of being young. Then, at a certain point, it would start to hurt. I suddenly realised my body can be fragile and need attention and so I had to change. So I did change. I modified my way of looking at things, my work method – I changed all that but what I also changed was my approach. I used to believe I was invincible now I know I am vulnerable."
With a successful career, world fame and the respect of her peers, talking about it all coming to an end is not taboo for Sylvie Guillem:
"I have been doing the same thing for a long time and I know how high the price is; so it is true that every now and then I tell myself: 'it won't be that bad once it's all over.' Although I don't want it end, especially when I am still enjoying it so much! The balance is still positive, so the end is not on the agenda for now. However, it has been buzzing around my head for quite some time and I must admit that every now and then I do have fantasies of maybe one day, becoming a gardener!"
In this story it is possible to hear segments of Ludwig van Beethoven's Piano sonata Op. 111 (arietta), whereas in Rearry the music is by David Morrow.
For more excerpts from our interview (in French) with dancer Sylvie Guillem please click on the following link : http://fr.euronews.net/2012/05/03/entretien-avec-sylvie-guillem