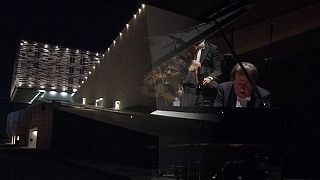 Beethoven's Piano Concerto No. 4 is considered one of the most harrowing pieces in the classical repertoire.
Austrian pianist Rudolf Buchbinder is a leading expert on Beethoven in general, and on this concerto in particular.
Buchbinder told euronews: "This is the greatest and deepest of all five (of Beethoven's) concertos, the most sensitive, the most emotional, the most touching. He's dreaming of something. He's dreaming of love, he's dreaming of warmth, which he never got. He was always in love with the wrong woman, this was his problem!"
Conductor Fabio Luisi added: "The second movement is quite revolutionary. It's a totally new type of dialogue between the piano and the orchestra – nothing like that had appeared before. It's a very intense, dramatic dialogue, which makes this movement particularly original."
For this rendition, euronews went to the new Opera House in Florence, which was recently opened to coincide with celebrations marking 150 years of Italian Unification.
The Florence Opera House has been completed at a time of global economic crisis.
Elisabetta Fabbri, who supervised its construction for the Italian government, told euronews: "A theatre is usually seen as an open space when the show is on, but then, once the lights are off, it becomes again a closed space. Here we wanted to reverse the role of the theatre, and music.
"It's been said that 'Music washes the dust of the day from the soul'. It's beautiful to think of this place as a space to come to anytime, where you can take advantage of a musical space even when there's no show."
"Go up in this building and you find a fantastic open air auditorium. It's almost a metaphysical space of absolute purity, of very fine lines, where you only see the stairs and the sky. By going up those stairs you can admire the breathtaking view of Florence. And while looking at this wonderful city – the dome designed by Brunelleschi – you capture this fantastic image, and take it away to treasure when you enter the hall later."
"Outside the hall the geometrical volumes are quite rigid, but once inside, the hall really takes you by surprise. The hall is much 'warmer' than the outside. It's like an embrace, sharing the space, which all converges on the vanishing point – the stage."
In this edition of Musica you hear segments of the following pieces:
- Ludwig van Beethoven, Piano Concerto No. 4 in G-major, Op. 58
- Johannes Brahms, Symphony No. 4 in E-minor, Op. 98
For more excerpts from our interview with pianist Rudolf Buchbinder and conductor Fabio Luisi (in Italian) please click on the following link:
www.euronews.net/2012/01/26/bonus-interview-fabio-luisi-and-rudolf-buchbinder