US, UK, and Australia announce deal on nuclear-powered submarines
Comments
By Euronews with AP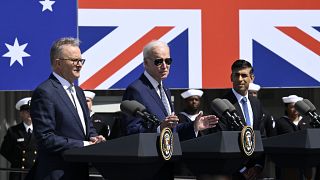 -
Copyright

Denis Poroy/Copyright 2023 The AP. All rights reserved.
China's foreign ministry has warned that the AUKUS alliance between London, Canberra and Washington is pushing the countries  "further down the wrong and dangerous path for their own geopolitical self-interest, completely ignoring the concerns of the international community." 
"This is the typical Cold War mentality which will only motivate an arms race, damage the international nuclear nonproliferation regime, and harm regional stability and peace," Wang Wenbin a Chinese Foreign Ministry Spokesperson told reporters in Beijing on Tuesday. "Peace-loving countries have expressed grave concern and firm opposition to this. The latest joint statement issued by the US, UK, and Australia shows that the three countries have gone further down the wrong and dangerous path." 
The first AUKUS project announced
This reaction follows Monday's announcement by President Joe Biden and the leaders of Australia and the United Kingdom that Australia will purchase nuclear-powered attack submarines from the US in a deal estimated to total around €342 billion to modernise its fleet amid growing concern about China's influence in the Indo-Pacific.
"From early in the next decade, Australia will take delivery of three US Virginia class nuclear-powered submarines. We are also proud to partner with the United Kingdom to construct the next-generation submarine, to be called SSN-AUKUS. A new, conventionally-armed, nuclear-powered submarine based on a British design, and incorporating cutting edge Australian, UK, and US technologies," Australian PM, Anthony Albanese said.
The AUKUS partnership, announced in 2021, paved the way for Australia's access to nuclear-powered submarines, which are stealthier and more capable than conventionally powered boats, as a counterweight to China's military buildup.
Biden, appearing sensitive to tensions with China and its criticism of the deal, stressed that "They're nuclear-powered - not nuclear-armed."
"The AUKUS agreement we confirm here in San Diego represents the biggest single investment in Australia's defence capability in our history - strengthening Australia's national security and stability in our region," said Albanese.  
"In the last 18 months, the challenge we face has only grown. Russia's illegal invasion of Ukraine, China's growing assertiveness, and the destabilising behaviour of Iran and North Korea, all threaten to create a world defined by danger, disorder and division," said UK Prime Minister Rishi Sunak. 
Meanwhile, Russian Foreign Minister, Sergei Lavrov also condemned the latest AUKUS announcement.
"The Anglo-Saxon world, with the creation of structures like AUKUS and with the advancement of NATO military infrastructures into Asia, is making a serious bet on many years of confrontation," he said during a press briefing in Moscow on Tuesday. 
West VS China
AUKUS is one of several US-led security arrangements that have drawn fire from Beijing and Moscow.
Along with Russia, China has denounced the Quad — a grouping of Australia, India, Japan and the United States — whose foreign ministers earlier this month made clear they aim to be an alternative to China. The ministers said they viewed with concern "challenges to the maritime rules-based order, including in the South and East China Seas," in a reference to China's aggressive moves to assert its territorial claims in a quest to replace the US as the region's preeminent military force.
China has also been unsettled by an agreement between Washington and the Philippines, giving US forces greater access to Filipino bases along what is called the "first island chain" that is key to Chinese control of the region.
Washington's military and political support for Taiwan has also drawn more threatening responses from Beijing in recent years.
Foreign Minister Qin Gang warned Washington last week of possible "conflict and confrontation" if the US doesn't change course to mend relations strained over Taiwan, human rights, Hong Kong, security, technology and the Russian invasion of Ukraine.