AUKUS: Biden to announce Australia submarine deal in San Diego
Comments
By AP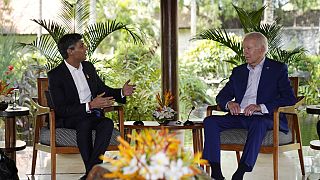 US President Joe Biden is set to meet with two of America's closest allies to announce that Australia will purchase US-manufactured, nuclear-powered attack submarines to modernise its fleet, amid growing concerns about China's influence in the Indo-Pacific region.
Biden is travelling Monday to San Diego, where he will meet Australian Prime Minister Anthony Albanese and UK Prime Minister Rishi Sunak for talks on the 18-month-old nuclear partnership known as AUKUS.
The partnership, announced in 2021, paved the way for Australia's access to nuclear-powered submarines, which are stealthier and more capable than conventionally powered boats, as a counterweight to China's military buildup.
San Diego is Biden's first stop on a three-day trip to California and Nevada. He will discuss gun violence prevention in the community of Monterey Park, California, and his plans to lower prescription drug costs in Las Vegas. 
The trip will include fundraising stops as Biden steps up his political activities in advance of his expected plans to announce next month a run for reelection in 2024.
Australia is purchasing up to five Virginia-class boats as part of AUKUS, according to two people familiar with the arrangement who spoke on the condition of anonymity to preview the plans. A future generation of submarines will be built in the UK and in Australia with US technology and support. The initial plans call for all of the Australian subs to be constructed in Adelaide, Australia.
The US would also step up its port visits in Australia to provide the country with more familiarity with nuclear-powered technology before it has such subs of its own.
Biden will also hold bilateral meetings with Albanese and Sunak, an opportunity to coordinate strategy on a range of global challenges, including Russia's war in Ukraine and the global economy.