'Dark day for Georgia's democracy': Mass protests over foreign agent law
Comments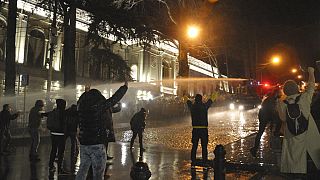 -
Copyright

Nicolo Vincenzo Malvestuto/Copyright 2023 The AP. All rights reserved
Georgians protested against a controversial foreign agent law on Tuesday that some claimed will stifle freedoms in the country. 
Riot police used tear gas and water cannons to disperse tens of thousands of protesters outside the parliament building in Tbilisi, the capital, long into the night. 
The law, drafted by the ruling Georgian Dream Party, will make all media outlets and non-governmental organisations that receive 20% of their funding from abroad register as "foreign agents". This would subject them to monitoring and possible sanctions. 
It has been slammed by the country's civil society, media and analysts, who say it "threatens the fall of Georgian democracy".
Authorities have claimed the law is necessary to improve transparency. 
66 arrests were made at the demonstration on Tuesday evening, including the leader of the opposition Zurab Japaridze, while 50 police officers were injured. 
Protesters also reported injuries, with a number of officers reportedly seen laughing as they dispersed the crowds.
International organisations and western states have also condemned the law, with the EU warning Georgia it could hamstring the country's EU ambitions.
On Tuesday, European Union foreign policy chief Josep Borrell described the law as "a very bad development for Georgia and its people". 
"The European Union urges Georgia to uphold its commitment to the promotion of democracy, the rule of law and human rights, and recalls the right of people to a peaceful protest," he added. 
Foreign ministers of several EU member states, including the Baltics, echoed concerns about the foreign agent law, urging Georgia to uphold the principles of "democracy, rule of law and human rights".
Fights have broken out in the parliament in recent days as the law has been debated. 
Georgia's president, Salome Zurabishvili, has said she would veto the bill, though parliament can override presidential vetos. 
Khatia Dekanoidze, a member of the opposition National Movement Rally, told parliament: "Everyone should understand that saving our country, saving our young generation, saving our future lies only through the European path."
The bill, dubbed a Russian-style law by opponents, received initial approval in parliament. 
In Russia, a foreign agent law has been used to silence organisations and news outlets that criticised the government. 
Protesters blocked both entrances to the parliament building last night, chanting: "No to Russian law!" "Russians!" "Slaves!"
As the bill was being debated on Tuesday, the US Embassy said in a statement it raised "real questions about the ruling party's commitment to Euro-Atlantic integration."
"Today is a dark day for Georgia's democracy. Parliament's advancing of these Kremlin-inspired laws is incompatible with the people of Georgia's clear desire for European integration and its democratic development," they said.
Georgian Dream chair Irakli Kobakhidze defended the draft law, following the unrest. 
He said that people had been misled with 'disinformation', defending the legislation as necessary to reveal who was financing those who criticised the Georgian Orthodox Church.