Amsterdam's red light district relocation proposal sparks concerns
Comments
By Euronews with AFP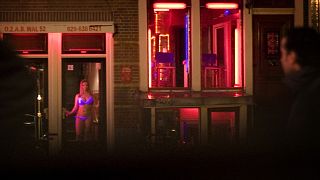 -
Copyright

PETER DEJONG/2008 AP
The Amsterdam City Council has put forward a proposal to set up a large new erotica centre, relocating the city's infamous red light district.
The planned building will have 100 places for sex workers, with space for work breaks and other facilities, according to the proposal. 
The council said it wants to relocate legal prostitution from the notorious city centre because of residents' complaints about crime and rowdy behaviour by visitors.
The European Medicines Agency (EMA) expressed concerns about the proposal,  fearing "the same negative impacts" near its building.
Two of the three proposed locations for the huge new brothel are close to the EMA's headquarters in a business district in the south of Amsterdam.
"The change in location of the red light district is motivated by concerns about nuisance, drug dealing, drunkenness and disorderly behaviour," EMA said in an statement.
The EMA statement added that it was "extremely concerned that this will create safety, security and nuisance problems" for its staff and for visiting delegates who often have to leave late at night. 
The EMA would "in no way" be adjacent to the new erotica centre and there is at least half a kilometre between the headquarter and the locations under consideration, a city council spokesperson said.
There are few security risks, especially since with the erotica centre there would be "no more public on the street like in the Red Light District", the police told Dutch news agency ANP.
The EMA said it would now work with the European Commission in Brussels to take the matter to the "highest appropriate political and diplomatic level to ensure a safe working environment," saying its work should not be compromised by "fears for EU staff and experts visiting the regulator's building."
The decision follows the council's ban on smoking cannabis on the streets of the red light district from February.