Hundreds of young girls poisoned in Iran in suspected attempt to 'close schools'
Comments
By Euronews with AFP, AP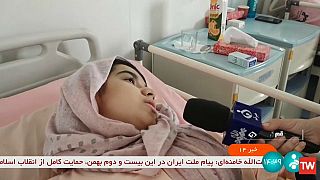 More than 100 school girls were poisoned in Iran on Wednesday in what some have speculated is an attempt to "close all schools, especially girls' schools" in the country.
In the northern city of Ardabil, students of seven girls' schools were exposed to gas fumes, sending 108 people to the hospital, according to the Tasnim news agency.
Local media also reported similar cases in at least three schools in Tehran.
The incidents on Wednesday follow similar cases in different schools in Iran since November.
The first cases emerged in late November in Qom, some 125 kilometres southwest of the country's capital Tehran. There, students from the Noor Yazdanshahr Conservatory fell ill, and again in December.
Other cases followed, with children complaining about headaches, heart palpitations, feeling lethargic or otherwise unable to move.
Nearly 800 students have been affected since those first cases in November, according to Zahra Sheikhi, a spokesperson for the parliamentary health committee.
At first, authorities didn't link the cases. In winter, many schools in Iran are heated by natural gas, leading some to speculate that it could be carbon monoxide poisoning affecting the girls. The country's education minister initially dismissed the reports as "rumours."
But at first, the only schools affected were for young women, fueling suspicion the incidents were intentional. Since then, at least one boys' school has been targeted as well.
The Ministry of Health said on Sunday that "certain individuals" were seeking, through these actions, to "close all schools, especially girls' schools".
Ali Reza Monadi, a national parliament member on its education committee, described the poisonings as "intentional."
Education is widely accepted as compulsory in Iran, where girls even represent a majority of students in universities. Iran itself also has been calling on the Taliban in neighbouring Afghanistan to have girls and women return to school.
The poisonings follow a crackdown on all dissent stemming from the death of Kurdish woman Mahsa Amini in police custody last September.  At least 95 journalists have been arrested by authorities since the start of the protests, according to the New York-based Committee to Protect Journalists.
Human Rights activists in Iran said overall the security forces have killed at least 530 people and detained 19,700 others.