Paris 2024 Olympics: Which previous summer Olympics had the cheapest tickets?
Comments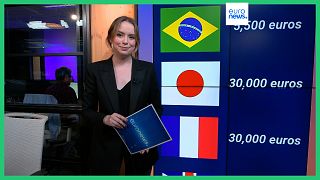 The Paris 2024 Olympic Games have been hailed by the French government as affordable and accessible to the general public.
The first round of ticket sales launched on February 13 and only people drawn from a lottery can buy tickets for the moment. But for the lucky few, the reality has been quite different to what the government had promised.
Many social media users took to Twitter to express their anger and disappointment especially when it comes to the pricing of the tickets. 
One Twitter user said "Stadium tickets are €90 for the cheapest (only heats events) or €170/385 for one ticket to an evening session. I paid £60 for my London 2012 tickets. I'm a big athletics fan but this is unreasonable."
Facing a barrage of criticism, the president of the Organising Committee, Tony Estanguet told French radio RTL that the Paris Olympics are not more expensive than the London 2012 Games.
Is this true? And how do the prices for the Paris games compare to the most recent Olympics in Tokyo, Rio and London?
When looking at an London Assembly Report about the 2012 Olympics, it states that nearly 2.5 million tickets were sold under £20. 
We took the average exchange rate in 2012 and which comes out to approximately €25 back then. That's slightly more expensive than Paris which will only have 1 million tickets at €24 available.
The 2016 Rio Olympics promised 3.8 million tickets at less than what was €18 back in 2016.
At the 2020 Tokyo Olympics, the cheapest tickets cost approximately €21.
In the end, the prices of Paris are quite similar to the previous Olympics Games, except for Rio, which is the cheapest. 
Inflation rate and a different cost of living
But these calculations do have a limit. First of all, we must consider the inflation rate. The euro didn't have the same value as it did back in 2012.
Secondly, it's important to keep in mind the price difference varies between countries because a majority of tickets are reserved for the local population. 
According to the World Bank, the average annual salary in Brazil was approximately €5,500 a year, while €30,000  in France and Japan in 2020. 
For the 2024 Paris Games, there will be a second phase of ticket sales on May 11. Registration opens on March 15.