China's peace plan: Russia says no conditions for 'peaceful' solution for Ukraine 'for now'
Comments
By Euronews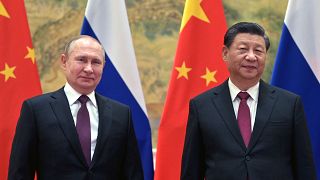 -
Copyright

Alexei Druzhinin, Sputnik, Kremlin Pool Photo via AP, File
The Kremlin said on Monday that China's peace plan for Ukraine deserved to be studied in detail, but claimed the conditions for a "peaceful" solution had not been met "for now".
Beijing issued a 12-point document last Friday, a year to the day since Russia launched its full-scale war against Ukraine, calling for a ceasefire and for Moscow and Kyiv to hold peace talks.
"Any effort that helps to bring this conflict to a peaceful path deserves attention. We consider the plan of our Chinese friends with great attention," Kremlin spokesman Dmitry Peskov said.
However, he added, this was a long process. "At the moment, we do not see the premises for this matter to take a peaceful path," he continued. "The special military operation (in Ukraine) continues."
Western countries are suspicious over China's motives, believing that Beijing's position as an ally of Moscow disqualifies it as a potential mediator in the conflict. 
China, which declared a "no limits" alliance with Russia shortly before Vladimir Putin launched the full-scale invasion, has since refused to condemn it. 
Last week Ukraine's President Volodymyr Zelenskyy said he would be open to meeting his Chinese counterpart Xi Jinping to discuss Beijing's proposals, describing China's stance as "not bad".
He urged Beijing to use its influence to put pressure on Russia to withdraw from Ukraine.