The earthquake wrecked Turkey's institutional façade. Erdogan might tear down the rest
Comments
By Dr Ahmet Erdi Öztürk, Politics and international relations expert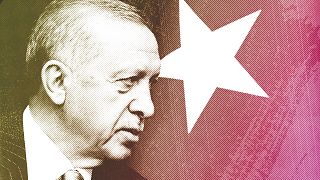 -
Copyright

AP Photo/Euronews
The opinions expressed in this article are those of the author and do not represent in any way the editorial position of Euronews.
There are no words that can fully define the pain people in Turkey and Syria have been feeling for weeks after the devastating earthquake that left tens of thousands dead and millions displaced.
Words fail to describe this tragic incident that is thought to have affected some 24 million people who live in the region. The number of human lives changed forever is almost too impossible to grasp.
However, there is much to be said about all the woes surrounding the disaster, even though it might be too soon to talk about them.
Yet when people have experienced such a deeply painful, horrific misfortune, it would be unconscionable or immoral to stay silent. 
This is not the time for provocations or agenda-setting, but someone has to write this down.
What happened to Turkey is not a natural but, rather, a political catastrophe.
Authoritarianism and corruption are at fault
In other words, if the effects of the 2023 earthquake are primarily due to negligence before and after the event, the issue cannot be fudged and written off as merely a natural disaster.
The severity of the consequences affecting people's lives is a result of both institutional and societal collapse.
For many years, the warnings of scientists have been ignored by the government. 
This is not unexpected for an authoritarian structure that closes its mind to the opinions of party and government outsiders. But when human life is at stake, this is unacceptable.
Yet one fact remains: the licenses for most of the destroyed buildings were issued over the last ten years.
This means that these buildings were built at a time when President Recep Tayyip Erdoğan's AK Party — in office since 2003 — was becoming increasingly authoritarian and charting out a neo-patrimonial administration for itself.
Zoning permits or earthquake resistance tests were circumvented through corruption and bribery. Some owners of substandard properties were doled out "zoning amnesties."
Accusations have persisted for years that only those loyal to AK Party routinely ended up as the beneficiaries of public contracts for roads, schools, and hospitals in Turkey.
As a result, just a few days ago, the number of buildings that collapsed ended up surpassing 60,000, including several hospitals.
While more than 130 contractors are allegedly being investigated over this, no officials have been brought to justice just yet.
Government's failures keep piling up
All these disruptions took place well before the earthquake. But what happened immediately after is hard evidence that Turkey is becoming a failed state. 
For example, Erdoğan, despite being in control of everything, appeared in front of the cameras only after some 25 hours and not immediately after the disaster struck. 
The fact that he first called his own mayors in the region — who are also among his most fervent supporters — and only contacted other opposition municipalities in reaction to being criticised is not only a political gaffe but also a major problem in terms of morality. 
The government reacted even more fiercely towards journalists and online critics who dared to publicly slam the response, arresting and prosecuting at least a dozen of them for alleged "provoking the people into animosity and hatred" and "spreading disinformation" after Erdoğan called them "dishonourable."
While the authorities kept themselves busy strong-arming their critics, the inability of aid agencies to coordinate, the ineptitude of institutions to cooperate with each other, the state's lack of crucial aid materials and its impotence in responding to people's needs in a timely manner saw, in itself, a symbolic collapse of Turkey's institutional structure.
The Erdoğan-founded and AK Party-run Disaster and Emergency Management Presidency, or AFAD, designed in 2009 to "coordinate post-disaster response," was particularly highlighted by critics as too inadequate and inexperienced to handle a disaster of this size.
Its disaster response department head, İsmail Palakoğlu, who was appointed by Erdoğan in January, is a theologian by vocation. Just how his past experience running the country's Directorate of Religious Affairs made him the top choice for the job has to be questioned, too.
Yet, AFAD was given total control of the disaster response, with government officials effectively banning all other coordination outside of that particular body.
Economy minister Nureddin Nebati can easily lie and say everything is under control while calling those who lost their livesşehitlerimiz, meaning "our martyrs". 
This is no holy cause for them to be şehitler. Their lives were lost due to the failure of the political leadership to fulfil their obligations because of their conflicting interests.
A change in politics could prevent great social trauma
Moreover, the disaster has once again exposed Turkey's flawed foreign policy. 
No doubt that Russia helped Turkey in the end, but the first and most generous support came from the United States, Israel and many other Western countries with which Erdoğan's Turkey has always been at odds.
Last but not least, mass mobilisation, sacrifice, and aid efforts are all worthy of commendation, but changing and transforming Turkish society is not doing as well in this regard as one would think.
Looting destroyed synagogues, snatching other people's intact belongings, stealing from supermarkets or raising the prices of aid materials is, above all, hypocritical and dishonest in a society that identifies itself as pious and moral.
The truth of the matter is that this catastrophe will cause great social trauma, that is for sure. 
To prevent this, whatever happens, it must result in political change. 
Because it is the political institutions themselves that caused the natural phenomenon to turn into a disaster, if there is no restoration in terms of the state and society in some way, I don't even want to think about what will happen to us next time disaster strikes.
You can postpone elections due to war, not an earthquake
​Before the earthquake, the upcoming elections were at the top of the agenda. 
The most important questions in the country were whether Erdoğan would run again and whether the opposition bloc would somehow come up with a common candidate that could potentially unseat him.
But now the agenda has rapidly changed, and these elections could be Erdoğan's downfall. 
Erdoğan's declaration of a state of emergency in 10 provinces following the parliamentary vote has raised the possibility of postponing the elections, which were originally scheduled for 18 June but have now been brought forward to 14 May. 
Government officials, noting that 15% of the country's population lives in the earthquake zone and a three-month state of emergency has been declared, say it is too early to make a decision on the elections, while the opposition says they should be held immediately. 
Some government officials, however, emphasise that Erdoğan is not concerned about the elections. 
The opposition has argued that it is constitutionally impossible to postpone the elections to a later date, pointing out that Article 78 of the country's Constitution stipulates that elections can be postponed only "due to war." 
In fact, party leaders have clearly stated that there is no provision that the vote can be delayed due to an "earthquake or other natural disaster." 
Further disruption to Turkey's democratic foundations could be lethal
If there is to be a postponement, it can only be done with the consensus of the political parties in parliament and a temporary amendment to the constitution. 
The ruling party's desire to avoid leaving Erdoğan vulnerable at the polls means that the government can be expected to keep seeking ways to postpone the elections in order to avoid being crushed at the polls.
Yet, any decision to delay the election would be political and not a constitutional one, compromising its legitimacy.
At a time when Turkey is still reeling from the government's deadly failures, further self-serving disruptions to the country's foundations could prove to be lethal to what has been left of its democracy.
Just like in all these years before the February earthquake, the people of Turkey deserve better.
Dr Ahmet Erdi Öztürk is an associate professor of politics and international relations at London Metropolitan University and the author of "Religion, Identity and Power: Turkey and the Balkans in the Twenty-First Century."
At Euronews, we believe all views matter. Contact us at view@euronews.com to send pitches or submissions and be part of the conversation.