France school stabbing: Teacher dies after being attacked by student near Biarritz
Comments
By Euronews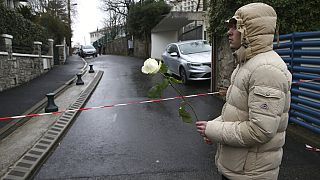 A teacher at a private secondary school in the French city of Saint-Jean-de-Luz near Biarritz was stabbed to death by a student on Wednesday while teaching a class. 
"I can confirm that there has been a stabbing and that the victim has just died," the public prosecutor in Bayonne, Jerome Bourrier, told AFP.
The suspected perpetrator of the attack, aged 16, was arrested and placed in police custody. 
The victim was a 52-year-old Spanish teacher.
The events took place at the Saint-Thomas d'Aquin Catholic school in Saint-Jean-de-Luz, about 20 kilometres south of Biarritz near the Spanish border, the prefecture said in a press release.
At midday, students were gradually allowed to leave the school premises after being kept inside classrooms for nearly two hours.
According to the Basque country news website Actu.fr, which broke the story, the teacher was in cardiorespiratory arrest when emergency services arrived but they were unable to revive her.
According to the Sud Ouest newspaper, the teacher was attacked while giving a lesson to a class of second-year students. The assailant allegedly burst into the room with a knife and attacked her violently.
This is the first time a teacher has been killed in the course of his or her duties in France since the murder of Samuel Paty in the autumn of 2020 in the Val-d'Oise.
Government spokesman Olivier Véran said that the Minister of Education, Pap Ndiaye, was going to the scene. He was due to hold a press conference at 4 pm CET, according to the ministry.
"I am very moved by the death today of a teacher at the Saint-Thomas-d'Aquin high school in Saint-Jean-de-Luz. My thoughts are with her family, her colleagues and her students," Ndiaye tweeted.
Local media also reported the student may have been suffering from mental health issues. They said that at this stage of the investigation, there was no suggestion the incident was terror-related.