Hungarian motorists buy petrol in Slovakia and Romania to save money
Comments
By Nora Shenouda with Euronews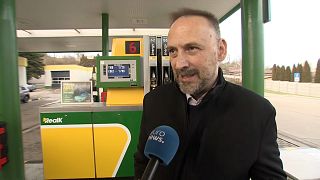 -
Hungarians gathering winter fuel for their cars and other vehicles are filling up over the border in neighbouring countries to avoid soaring inflation at home.
Hungary's government blames 25% inflation on EU sanctions against fossil-fuel exporter Russia.
Euronews travelled to Slovakia and Romania to see if there was any truth to claims both countries were benefiting from fuel tourism alongside another Hungarian neighbour, Croatia.
Párkány in Slovakia is the nearest city to Esztergom in Hungary. The two towns are separated by a bridge over the Danube and Euronews saw dozens of cars with Hungarian licence plates while they were there.
"We cross because petrol is cheaper here again," said one motorist. "When the bridge opened twenty-odd years ago, it was also the same."
But for another visitor from Hungary, the price difference was not as high as they might have hoped.
"It is not that much more favourable, the difference is 30-40 HUF (about 10 euro cents)," said the driver." They added "I filled up with diesel. Obviously, the exchange rate of the euro is a little better now compared to the HUF, and that makes it a little more favourable."
Inflation in Slovakia was 15.4% in December 2022 compared to 24.5% in Hungary for the same month.
With Hungarians finding they can save around €20 every time they fill up in Slovakia, shopping for fuel in neighbouring countries is proving popular for those who live close to the borders.
For people living in Kübekháza in southern Hungary a trip over the border to Romania can save more money. The town's municipality takes its minibuses over the border to fill up with fuel.
"As the head of a municipality, I can't waste money as our government does," said Mayor Robert Molnar. "We have therefore decided that we will go from Kübekháza to the petrol station next to a small town in Romania to refuel, because there it is 100-120 HUF (€0.25) cheaper per litre for fuel, and we have to refuel 2-3 times a month, so it does matter."