This Valentine's Day, MEPs want you to have better access to contraception
Comments
By Sophie in 't Veld and Predrag Fred Matić, European Parliament Members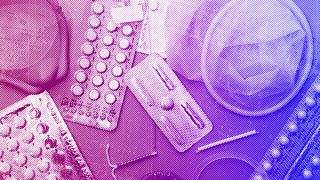 -
Copyright

Reproductive Health Supplies Coalition/Euronews
The opinions expressed in this article are those of the author and do not represent in any way the editorial position of Euronews.
Valentine's Day is a day to celebrate romance and love in many different cultures.
Each 14 February, many media outlets run articles about the best plans for the day, top gift ideas for your loved one, or, alternatively, how to celebrate this occasion if someone is single.
However, on a day when love could include sexual and affective moments, little can be found on ways to have healthy, safe, consensual, and pleasurable sex. 
In this regard, contraception plays a key role, and access to it is about choice and pleasure.
Europeans should have better access to contraception
Increased use of effective contraception contributes to safe and responsible sexual behaviour, which reduces the risk of endometrial and ovarian cancer as well as the number of unintended pregnancies, and potentially leads to fewer sexually transmitted infections (STIs).
Perhaps people might have heard of contraceptive pills, sterilisation, or the male condom, but what about intrauterine devices (IUDs), implants, or female condoms?
Unfortunately, many people in Europe lack access to the full range of information and contraceptive supplies that would allow them an informed choice.
Everyone should be empowered to make informed decisions about family planning. 
Some might think that this is something European citizens benefit from already since Europe has the highest contraceptive prevalence rates and the lowest abortion rates in the world. 
If we look in detail, nevertheless, this cannot be taken for granted.
A map of contraception policies is here to help
A recent publication called Contraception Policy Atlas Europe 2023 was launched by the European Parliamentary Forum for Sexual and Reproductive Rights (EPF). 
It is a map that scores 46 countries across geographical Europe on access to modern contraception focusing on supplies, counselling, and online information.
According to this publication, for instance, in countries such as Lithuania, Estonia, Hungary, Romania or Luxembourg, governments are putting considerable efforts into developing websites providing information on contraception.
With the Internet being young people's first source of information, these informative websites are becoming more interactive and include decision aid, videos with explanations of the methods, or hotlines, among others. 
Having said that, only 19 countries — representing 41% of the countries analysed — provide good or exceptional governmental websites.
The research shows that 89% of countries analysed cover counselling within the national system, and 43% cover contraceptives in their national health system, including long-acting reversible contraceptives (LARCs), such as IUDs and implants.
Our continent has to fight for sexual and reproductive rights
Notwithstanding, there is an increasing polarisation between Western and Eastern Europe. 
While Western European countries are progressively expanding free access to contraception for young people and even providing emergency contraception for free (like France or Belgium), several countries in Eastern Europe stopped supporting vulnerable groups with contraception (such as North Macedonia or Armenia).
Likewise, while evidence suggests an increase in the use of modern contraception — including methods such as the pill, male or female sterilisation, implants, and IUDs — in Eastern Europe, governments in this region do not provide a political response to this need.
In an era riven by misinformation and marked by the fragmentation of the welfare state, it is time to act and fight for sexual and reproductive rights. 
Public health institutions must ensure reliable information on a broad range of modern, effective contraception and grant access to free contraceptive methods. No one should be left behind.
Sophie in 't Veld (Renew) and Predrag Fred Matić (S&D) are Members of the European Parliament (MEPs).
At Euronews, we believe all views matter. Contact us at view@euronews.com to send pitches or submissions and be part of the conversation.