Spain's Digital Nomad Visa to attract 'high value' professionals
Comments
By Jaime Velázquez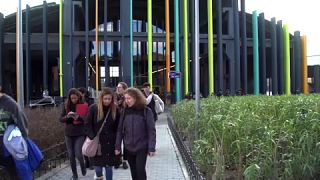 -
Copyright

euronews screenshot
Shane Pearlman was a digital nomad for 23 years until he settled in the Canary Islands with his family. After months of tedious paperwork, he managed to start a new business in Spain, Repeople, the largest community of remote workers in the country. 
The business partner now helps other professionals follow his path: "I saw an idea. I saw this digital nomad community and I said look, we need to really make things easy for families to be flexible, and I couldn't because I had the wrong visa type."
To avoid this difficulty in visa status, a new visa will allow digital nomads to stay in Spain for up to three years, as part of a new start-up law, aimed at attracting high-value professionals to incorporate them into Spain's creative community. 
Pearlman thinks the word "nomad is just a weird form of tourism" and that the visa allows people to "break that outsider cycle". 
He added that when you are in a community long enough to get to know your neighbours, that is when "chemistry" and "innovation" happens, which will lead to the creation of jobs. 
At a recent Spanish National Innovation Company (Enisa) event in Madrid, Shane Pearlman shared his experience of nomad working with other attendees. 
It provided digital nomads and Spanish companies the opportunity to establish relationships and alliances, creating a pool of talent for the Spanish start-up ecosystem.
The new start-up law also includes tax advantages for investors, workers, and start-ups in their first five years, which Jose Bayón, the CEO of Enisa, said will help companies "retain more talent in order to be able to grow". 
The law will benefit 23,000 start-ups like Komborebi at La Nave, Madrid's municipal innovation incubator, which after three years is ready to launch its first product. 
Alberto Torres, Chief Technology Officer, at Komborebi, a start-up specialising in AI solutions, told Euronews: "All the time you are developing a product until you launch it on the market or you don't have initial customers, all that is an outlay that you have to make yourself."