Syrian president Bashar al-Assad visits earthquake zone
Comments
By Euronews with AP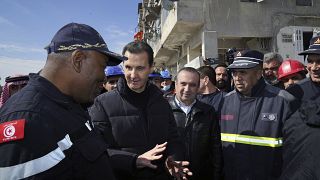 Syrian President Bashar al-Assad on Friday pledged to "work non-stop" to help the victims of the devastating earthquake that shook parts of Syria and Turkey.
Assad spoke to reporters in the demolished Masharqa neighbourhood of Aleppo during his first visit to the quake zone following the 7.8-magnitude earthquake.
"Syrians don't talk, they take action," Assad said.
"We as Syrians if we went to send a message, one can get it from 12 years of steadfastness, confrontation, and adhering to values, principles, and sovereignty. This is more eloquent than any word. I promise to work nonstop," he added.
The devastating damage to Aleppo, Syria's second and largest city, compounds the war torn city that has years of bombardment in the 12-year conflict, much of it by Assad's forces and those of his ally, Russia.
During his visit to Aleppo on Friday, Assad visited Aleppo University Hospital and then met with rescuers in Masharqua, where paramedics on Thursday removed the bodies of 44 people and seven others alive from one building.
World Health Organisation Director-General Tedros Adhanom Ghebreyesus and Dr Michael Ryan, WHO's head of emergencies, were also arriving in Aleppo on Friday to help coordinate and support the delivery of aid. 
Russia has sent 20 tonnes of humanitarian aid to Syria and the US has temporarily lifted sanctions related to the provision of disaster relief. The earthquake has left around 3,000 people dead in Syria, and more than 20,000 over the border in Turkey.