Kyiv factory explosion kills four people as Ukraine prepares for Russian offensive
Comments
By Euronews with AP, Reuters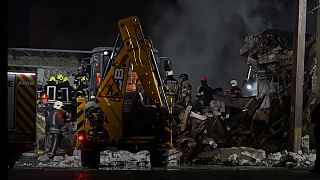 An explosion at a former factory in Kyiv killed four people and injured another five on Thursday.
Authorities believe around ten people were inside the building in the capital's Darnytskyi district at the time.
After the blast at 13:45 pm local time, Alina Maliutina, who is married to one of the workers in the factory, tried and failed to reach her husband by phone. She then raced to the industrial zone.
"There was an explosion, but the location was unclear," she said. 
"I haven't called his parents yet. I don't know what I should say."
The Kyiv City Military Administration said the preliminary cause of the blast was a gas cylinder explosion.
UN nuclear watchdog chief is in Russia for talks on nuclear safety
The UN's atomic watchdog and Moscow said on Thursday they hoped to make progress on creating a safety zone around Ukraine's Zaporizhzhia nuclear power plant.
The International Atomic Energy Agency wants a safety zone around the plant to prevent heavy weapons and shelling from causing further damage. The site has come under repeated shelling over the past months.
Russian forces seized it after they invaded Ukraine last year. Moscow and Kyiv have accused each other of shelling the site and risking a nuclear accident.
For more watch Euronews' report in the video above.