Turkish city of Adana reels after Monday's devastating earthquake
Comments
By Euronews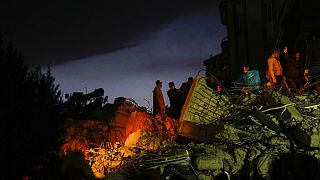 Rescue workers in Adana, southern Turkey, continue to search for survivors trapped beneath the rubble of buildings brought down by Monday's powerful earthquake.
As the death toll climbs across the city home to 1.7 million people despair and anger grow as the bitter cold hampers rescue efforts.
Euronews' International Correspondent Anelise Borges is in Adana and witnessed crews and locals alike battling against the clock throughout the night.
"Emergency responders have been working non-stop to try and get one more person out the rubble, out of what is left of the building you see me behind me here," she said beckoning to the devastation behind her. 
Click on the video above to watch the full report.