'It is torture': Protest against conditions of jailed Italian anarchist Alfredo Cospito
Comments
By Euronews with AFP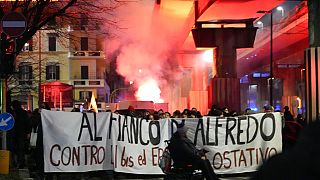 -
Copyright

Andrew Medichini/Copyright 2023 The AP. All rights reserved
Hundreds of people marched in Rome on Saturday afternoon to protest against the conditions of jailed Italian anarchist Alfredo Cospito.
Alfredo Cospito has been on hunger strike since October as he is being held under highly restrictive conditions usually reserved for Mafia members, drug traffickers, terrorists and other categories of serious offenders.
One of the demonstrators said the problem with Article 41-bis, the law that governs prison conditions, was that it could become a form of torture.
"If an inmate cannot read either books or comics, cannot have any meeting, it is torture," the protester said.
Cospito was sentenced to life imprisonment on terrorism charges after carrying out a bombing in 2006 and shooting a person in 2012.
His case has dominated Italian news for days.
Protester Alfonso Perrotta accused the government of "taking advantage" of Cospito's story for domestic political reasons.
The demonstration was mostly peaceful, except for minor tensions in the eastern suburb of Prenestino.
Cospito's situation has sparked protests by sympathisers in Italy and elsewhere, including an arson attack on an Italian embassy car in Berlin.
Italian Foreign Minister Antonio Tajani said Tuesday the government has increased security at its diplomatic missions around the globe in response to "a crescendo of terrorist attacks" by an informal anarchist network acting in solidarity with an imprisoned Italian militant.
Tajani cited nearly a dozen attacks since the end of November, ranging from vandalism to explosive devices that have caused damage to Italian diplomatic targets in Argentina, Bolivia, Germany, Greece, Portugal, Spain and Switzerland. No injuries have been reported.
Interior Minister Matteo Piantedosi said the attacks reinforced the necessity of the regime in Cospito's case.
Cospito's lawyers are currently appealing the strict conditions.