European Parliament President thanks Ireland for welcoming Ukrainians
Comments
By euronews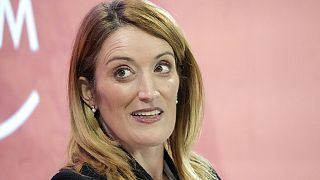 -
Copyright

Markus Schreiber/Copyright 2023 The AP. All rights reserved
The President of the European Parliament, Roberta Metsola, met with Irish President Michael D. Higgins in Dublin on Friday.
They meeting took place on Metsola's second day in the Republic of Ireland where she is on a visit to mark fifty years since the country joined the European Union.
Metsola thanked Higgins for welcoming 70,000 Ukrainian refugees fleeing Russia's invasion to Ireland.
Speaking in front of Irish MPs on Thursday, Metsola discussed the European Union's continued support for Kyiv, saying the EU would stand at Ukraine's side for as long as it takes.
She said: "For 343 days now Russia's brutal and illegal invasion of sovereign independent Ukraine and the bravery of Ukrainian people remind us that progress and justice cannot be taken for granted. Democracy cannot be taken for granted. Europe cannot be taken for granted."
The Maltese MEP also paid emotional tributes to murdered journalist Veronica Guerin, who was shot in June 1996 while her car was stopped at a traffic light outside Dublin, and 23-year-old teacher Ashling Murphy, who was killed while out jogging in January last year. 
Metsola said that EU efforts have "intensified" to protect women from violence, an issue on which she has been vocal since beginning her tenure as president of the EU's parliament on the 18th January 2022, the same day as Ashling Murphy's funeral.