Ukraine corruption scandal: Police raid oligarch, officials and tax authorities
Comments
By Euronews with AFP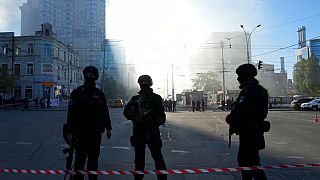 Ukrainian police raided an oligarch, tax authorities and officials on Wednesday, amid a harmful corruption scandal during the bloody war with Russia. 
David Arakhamia, the leader of President Volodymyr Zelenskyy's party, announced on Telegram that officers had targetted billionaire Igor Kolomoiski, ex-Interior Minister Arsen Avakov and the tax authorities, while the Customs Directorate was sacked. 
Senior officials at the Ministry of Defense were also visited by investigators. 
"The country will change with the war and if someone is not ready for change, the state will come to change them," said Arakhamia, alluding to individuals not playing by the rules.
Corruption has long been an endemic evil in Ukraine, which routinely ranks at the bottom of indexes measuring the problem, though experts say rapid action by authorities shows the situation is improving. 
Current corruption allegations surround officials signing off on overpriced contracts, taking bribes and going on luxury vacations overseas. 
Today's raids come a week after several senior Ukrainian officials were dismissed for their posts, following allegations the Ukrainian Ministry of Defence signed off on contracts for supplying food to soldiers on the frontline at two to three times the regular price. 
It was the first significant scandal since the start of the Russian invasion.
Kyiv is set to host a summit with the EU on Friday, with anti-corruption measures a key reform if Ukraine is ever to join the bloc.
Ukrainian authorities, whose war effort largely depends on military and financial support from Europe and the United States, must also crack down on corruption to ensure their continued support.
Ukraine's security services (SBU) released footage of their raid on oligarch Kolomoiski's home. He is implicated in a one billion euro embezzlement case involving the country's oil companies. 
The US-sanctioned billionaire supported Zelenskyy during his 2019 election campaign. They remained close for a time, though the Ukrainian president has since distanced himself. 
Tax authorities were searched, according to the State Investigation Bureau, which accused the leader of the official body of enriching themselves "to the tune of several millions of dollars".
Investigators gave senior Ministry of Defence officials notices, officially declaring them suspects.
However, authorities did not specify what they were accused of and whether the operation was linked to the scandal over inflated supply contracts.