Belarus President Alexander Lukashenko in Zimbabwe in trip to further diplomatic ties
Comments
By Euronews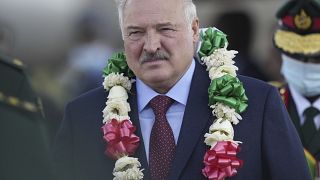 -
Copyright

Tsvangirayi Mukwazhi/AP
The President of Belarus, Alexander Lukashenko, travelled to Harare on Monday for talks with his Zimbabwean counterpart, Emmerson Mnangagwa, as both leaders attempt to further diplomatic ties.
The two nations have faced Western sanctions - Zimbabwe for concerns over its human rights record and Belarus for its support of Russia's invasion of Ukraine.
Pressure from some members of the international community has helped bring the two nations closer together.
Godwills Masimirembwa, chairman of the ruling Zanu PF party in Zimbabwe for the Harare Province, says the two nations will not cave in to interference from abroad. 
"It is just that the West remains determined to punish our two countries, but they will not succeed because the development strategies of the two countries is to ensure that we are self sufficient," he explained.
Zimbabwe's Foreign Ministry says the two leaders hope to strengthen ties in mining, agriculture. Some analysts add that Belarus may also seek to export its military hardware and expertise to Zimbabwe.
Lukashenko's trip to Harare follows a visit by Mnangagwa to Minsk in 2019.