Moscow accuses EU of fuelling 'geopolitical confrontation' with its mission in Armenia
Comments
By Euronews with AFP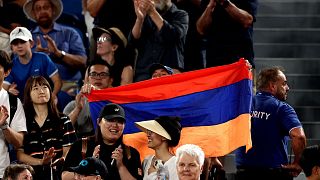 On Thursday, Russia accused the EU of fueling "geopolitical confrontation" by sending a civilian mission to monitor the unstable border between Armenia and Azerbaijan, an area that Russia considers its backyard.
The Russian Foreign Ministry said that the EU has become a "supporter of the United States and NATO and leads a policy of confrontation in post-Soviet space". It ruled that a European mission in Armenia would "introduce geopolitical confrontation into the region and exacerbate the existing contradictions there".
Moscow was reacting to a series of recent European initiatives on the conflict between Armenia and Azerbaijan, including the announcement on Monday by the EU of the establishment of a two-year civilian mission in Armenia to help monitor the unstable border between the two rival ex-Soviet republics of the Caucasus.
Russia has been the traditional mediator in the conflict between Armenia and Azerbaijan since the 1990s and after the 2020 war deployed a peacekeeping mission in Nagorny Karabakh, a territory that Baku and Yerevan are fighting over.
But Russian influence in the region has experienced a definite decline, due to Western and Turkish geopolitical competition, but also because of its assault on Ukraine, which worries its neighbours.
For Moscow, the EU's move seeks to "undermine Russia's mediation efforts".
European nations have been making their own attempts to mediate between Armenia and Azerbaijan for months. However, the mission that the EU will deploy has not received approval from the Azerbaijani side.
Armenia, for its part, has been denouncing the inaction of Russia, whose peacekeeping mission has, according to the nation, done nothing to prevent the ongoing blockade of Nagorny Karabakh.
The US, for its part, lent its support to the European mediation mission.
"We welcome the efforts made by our partners, including the European Union, to build trust in the region and ensure an environment conducive to direct dialogue between Armenia and Azerbaijan," the spokesperson told reporters from the State Department.
US Secretary of State Antony Blinken this week urged Azerbaijan to lift the blockade of Nagorny-Karabakh.
For more than a month, Azerbaijanis posing as environmental activists demonstrating against illegal mines have been blocking a crucial road linking Armenia to Nagorno Karabakh, a separatist region of Azerbaijan populated by Armenians.
Due to this blockage, the area, which has some 120,000 inhabitants, is facing power and internet cuts, as well as problems with heating and access to food and medicine.
"It is a policy of ethnic cleansing," Armenian Prime Minister Nikol Pashinyan said on Thursday during a government meeting, accusing Azerbaijan of exerting "economic and psychological pressure in order to provoke an exodus of Armenians of Karabakh".