Rising diplomatic tensions as Baltic states clash with Moscow over Ukraine
Comments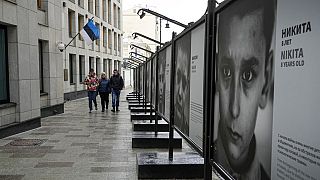 -
Copyright

Alexander Zemlianichenko/AP
Diplomatic tensions are increasing over Ukraine between Russia and the Baltic states, where all three have announced they are recalling their ambassadors from Moscow.
They are also expelling Russian ambassadors from their own countries.
Russia's ambassador to Latvia says he's been told to leave Riga a day before the first anniversary of the invasion.
"We're leaving. Latvia is reducing the level of diplomatic relations between our countries," said Mikhail Vanin when asked by a reporter, "I have to leave the country by February 23rd. That's all."
Latvia's decision follows similar announcements from Lithuania and Estonia over Russia's aggression in Ukraine.
Moscow accuses the Estonian leadership of being Russophobic and has asked Estonia's ambassador to leave Russia by the 7th of February.
BRICS member
Meanwhile, Russian Foreign Minister Sergey Lavrov has met with his counterpart in Pretoria, South Africa. 
The visit has sparked criticism in light of events in Ukraine, but South Africa insists it remains neutral over the conflict.
The country's main opposition Democratic Alliance party accuses the ruling party, the African National Congress, of sliding towards support for Russia, however, South Africa's foreign minister Naledi Pandor has urged a diplomatic solution to the conflict: 
"We have continued and will continue to urge that there should be a diplomatic solution and process to this current conflict because we regard war as terrible, we regard war as a negative for development and for world security so we will continue to call for that and we will reiterate our view that the concerns of both nations must be addressed in that process of diplomacy."
South Africa recently assumed the chairmanship of the BRICS, a grouping that also includes Brazil, Russia, India and China to challenge the dominant US and European-led global governance structures.
Watch the video in player above.