Western envoys in talks to defuse tensions between Kosovo and Serbia
Comments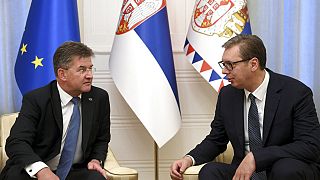 Western envoys went to Kosovo and Serbia on Friday as part of their ongoing efforts to defuse tensions between the two countries and attempt to help them reach a reconciliation agreement. 
Representatives from the US and Europe first met Kosovo's Prime Minister Albin Kurti in the capital Pristina to discuss the proposal for the normalisation of relations that they presented to him late last year. 
Afterwards, EU envoy Miroslav Lajcak said he'd hoped for a more encouraging response.
"I want to say however at this point is that we had expected a better understanding of the opportunities this proposal offers," Lajcak told reporters. "I hope we will get there to full understanding and full use of the potential of this proposal. We are going to continue to work on this."
After the meeting, the representatives headed to Belgrade.
Although Kosovo is made up of largely of ethnic Albanians, there's a large Serbian community living in the north and friction with Pristina has been constant since the territory proclaimed independence from Serbia in 2008.
Belgrade has not yet recognised it.
The situation in the north remains volatile as there are only a few dozen police officers of the European Union rule of law mission, known as EULEX, taking care of the area's security after all ethnic Serb representatives resigned from their posts in November.
Tension spiked late last year when Kosovo Serbs erected roadblocks in protest at the arrest of a former policeman. KFOR peacekeepers lifted the barricades.