The US pays tribute to the life and legacy of Martin Luther King Jr.
Comments
By Euronews with AP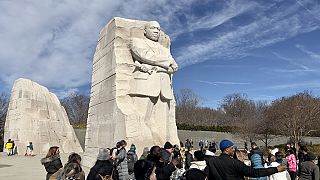 Copyright

DANIEL SLIM/AFP or licensors

-
Crowds gathered in Washington DC, and across the United States, to commemorate Martin Luther King Jr. Day. 
Americans pay tribute to the civil rights leader on the third Monday of January to remember the life and legacy of one of the most important historical figures in US history.
Over the weekend, US President Joe Biden made a historical pilgrimage to what he called "America's freedom church", King's Ebenezer Baptist Church in Atlanta, Georgia - where Martin Luther King Jr. was a pastor.
He said King's legacy could help guide Americans to make the right choices.
"This is a time for choosing," Biden said. 
"Will we choose democracy over autocracy or community over chaos, love over hate? 
"These are the questions of our time that I ran for president to try to help answer Dr King's life and legacy in my view, show us the way forward. We just have to look back. We've got to be prepared."
Thousands of people marched in the US capital in a parade to commemorate the famous activist. 
Residents unfurled banners and carried signs - to celebrate the teachings of the civil rights leader - who was killed in 1968 aged just 39.
For more watch Euronews' report in the video above.