For the first time in decades, China records a population decline
Comments
By Euronews with AP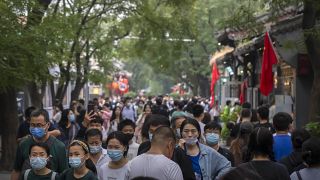 -
For the first time in decades, China has fewer people than it did at the start of last year, according to official figures released Tuesday.
The world's most populous country has worried for years about an aging community's effect on its economy and society, but its population was not expected to go into decline for almost a decade.
The National Bureau of Statistics reported that the country had 850,000 fewer people at the end of last year than in 2021. The tally includes only the population of mainland China, excluding Hong Kong and Macao, as well as foreign residents.
Over one million fewer babies were born than the previous year amid a slowing economy and widespread pandemic lockdowns, according to official figures. The bureau reported 9.56 million births in 2022, compared to 10.62 million in 2021. Deaths rose from 10.14 million to 10.41 million.
It wasn't immediately clear if the population figures were affected by the COVID-19 outbreak that was first detected in the central Chinese city of Wuhan before spreading around the world. China has been accused by some specialists of underreporting deaths from the virus by blaming them on underlying conditions, but no estimates of the actual number have been published.
China has sought to bolster its population since officially ending its one-child policy in 2016. 
For more watch Euronews' report in the video above.