Trump Organization fined around €1.5 million for tax fraud
Comments
By Euronews with AP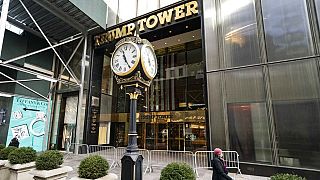 -
Former US President Donald Trump's company was fined around €1.5 million on Friday for a scheme in which the former president's top executives dodged personal income taxes on lavish job perks.
It's a symbolic, hardly crippling blow for an enterprise boasting billions of dollars in assets.
A fine was the only penalty a judge could impose on the Trump Organization after its conviction last month for 17 tax crimes, including conspiracy and falsifying business records.
The amount imposed by Judge Juan Manuel Merchan was the maximum allowed by law. It is double the taxes a small group of executives avoided on benefits including rent-free apartments in Trump buildings, luxury cars and private school tuition.
Trump himself was not on trial and denied any knowledge of his executives evading taxes illegally. In a statement released after sentencing, the Trump Organization said it has done nothing wrong and would appeal.
Click on the video above to see more.