Sweden can't meet some of Turkey's demands for its NATO bid
Comments
By Euronews with AFP & EBU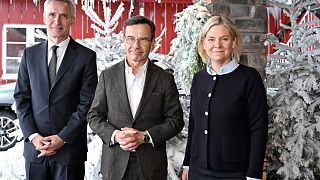 -
Copyright

HENRIK MONTGOMERY / TT NEWS AGENCY / AFP
Swedish Prime Minister Ulf Kristersson says Turkey is making demands that Sweden cannot accept. 
Ankara's stipulations were to lift its veto on Stockholm's bid to join NATO.
Kristersson made the comment at the annual Security and Defence meeting where politicians, authorities, and members of civil society gather to discuss defence issues. 
He explained how Sweden will not only contribute products but also participate in air patrols and the joint missile defence called the "European Sky Shield Initiative".
"I have said for a long time that we are convinced that Turkey will make a decision on ratification, we just don`t know when. And, as in many countries, there are many factors that come into play here; domestic political matters also matter. But also Sweden`s ability to prove that we really mean what we have said. That we are long-term with what we have said, that this is not something we have to be admitted but something we have to be a member (of NATO)," explained Kristersson. 
"I don`t think anything has changed on that point. Turkey both confirms that we have done what we said we would do, and they also say that they want things that we do not want to give them. And now the decision rests with Turkey."
For months, Turkey has blocked Sweden and Finland's efforts to join the military alliance until the two countries meet certain political demands, including joining its fight against Kurdish militants. 
However, NATO chief Jens Stoltenberg says he's hopeful their membership will eventually be approved.
"I expect so, I will not guarantee the exact date because this is of course at the end of the day has to be a sovereign decision by the Turkish and actually the Hungarian Parliament because there are two parliaments that haven't yet ratified. But I hope and I will continue to work for also ratification in those two parliaments," said Stoltenberg.
Last month, Turkey praised Sweden for responding to its security concerns but stressed more was needed to win Ankara's full backing for Stockholm's NATO membership bid.