Protesters demand release of Georgia's ex-president Saakashvili on health grounds
Comments
By Euronews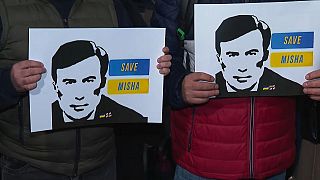 Demonstrators took to the streets of Georgia and a number of other European cities on Wednesday demanding the release of former president Mikheil Saakashvili.
Saakashvili's medical team say his health has deteriorated since he was imprisoned in October 2021.
He has staged repeated hunger strikes to protest his incarceration.
"We are joining the global rally which is connected to the health condition of Georgia's third president Mikheil Saakashvili." said Akaki Minashvili, from the pro-western United National Movement Party. "The rally was announced by Ukrainian friends and now the demonstrations and manifestations are ongoing in different countries as well. The main message is to save a life, save Mikheil Saakashvili" .
The former president was living in Ukraine when he was sentenced in absentia in Georgia in 2018, but was detained upon his return. He is currently serving a six-year sentence in a Georgian prison for alleged abuse of power and for seeking to cover up evidence about beating an opposition member of parliament when was in office.
But his supporters believe the court's decision was politically motivated. Tensions between the ruling Georgian Dream party and the opposition have been at fever pitch since the 2021 parliamentary elections. 
International and local doctors say the 55-year-old opposition politician is suffering from rapidly progressive dementia.
Some of them suggest it could be related to his alleged poisoning by heavy metals while in custody.
They are calling for his sentence to be suspended and his transfer abroad for medical treatment.
However Georgian officials deny the former president is in a critical condition and say he is trying to hinder the judicial process and mislead society and international partners.
He is also on trial on separate charges for violently dispersing an anti-government rally in November 2007 and for the illegal crossing of a state border. According to Georgia's interior ministry, he made his way into Georgia and bypassed border control by hidding in a truck loaded with dairy products.
However, Saakashvili has rejected the charges.
Georgia's president, Salomé Zourabichvili is now facing pressure from demonstrators, politicians and Georgian doctors to pardon the imprisoned Saakashvili who is currently being treated at a clinic in Tbilisi. 
They say the condition of the country's third president is worsening every day and could have fatal consequences.