Brazil's Bolsonaro may face court charges after losing presidential immunity
Comments
By Euronews, Reuters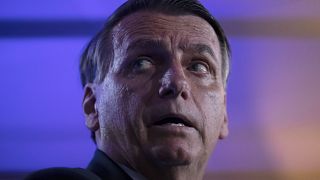 -
As leftist icon Luiz Inácio Lula da Silvia — known simply as Lula — was sworn in as Brazil's president on Sunday, in an unexpected return to power after 20 years since he last held the country's top job, former president Jair Bolsonaro was reportedly in Florida.
South America's most notorious populist far-right figure might have escaped the official duty to pass the presidential sash to Lula during the inauguration — an important symbol of the peaceful transition of power at the heart of Brazil's democracy. 
Still, he will hardly be able to avoid everything else that's bound to come with his loss of power, including the immunity the role gave him.
Now that Bolsonaro is no longer president, he does not enjoy the political immunity that shielded him from criminal and electoral probes against him in the past four years. 
Bolsonaro, who has been accused of threatening democratic rule in Brazil and encouraging the devastation of the Amazon forest, is currently under investigation in at least four criminal probes.
As long as he was in office, according to Brazilian law, Bolsonaro could only be arrested if he was convicted by the Supreme Court. 
Now, a trial against him would be handled much quicker by lower courts, and these investigations could potentially lead to his arrest and prevent him from running for office in the future if found guilty.
The existing probes against him include allegations he leaned on the federal police to protect his sons, spread known electoral falsehoods, and promoted the spread of misinformation from a troll farm in his presidential office. 
All four probes are led by Supreme Court Justice Alexandre de Moraes.
Bolsonaro also faces 12 requests for investigation at the Superior Electoral Court (TSE) for baseless claims Brazil's electoral system is liable to fraud, as well as alleged abuses of power for granting economic benefits to win votes. 
If the TSE upholds those accusations, Bolsonaro could be declared ineligible for elected office.
Bolsonaro has said he has always obeyed the constitution.
It's not clear whether the threat of any criminal case against him in Brazil has anything to do with Bolsonaro's visit to Florida. 
The former president reportedly travelled to the Sunshine State in December, where he was allegedly photographed at a KFC restaurant, and it is not yet known how long he plans to stay there.
However, as long as he remains abroad, Bolsonaro will be able to avoid any immediate legal jeopardy in Brazil.