Ukraine war: Russia 'not interested' in absorbing Belarus, kamikaze drones hit Kyiv, Zelenskyy plea
Comments
By Euronews with Reuters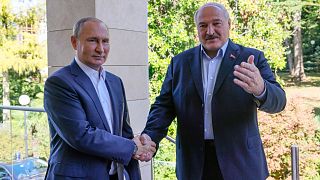 -
1. Russia 'not interested' in absorbing Belarus, says Putin
Russian President Vladimir Putin said on Monday that his country "has no interest" in absorbing Belarus, its closest ally.
"Russia has no interest in absorbing anyone," said Putin during a press conference with his Belarusian counterpart Alexander Lukashenko in Minsk. "It just doesn't make sense." 
Yet the Russian leader announced the pair held "substantial" talks on strengthening their cooperation in "all areas", especially defence. 
They will jointly manufacture and deliver arms, as well as other "common measures" to ensure their security, he said.
Russia will also continue to train Belarusian servicemen to fly Soviet-designed Belarusian aircraft capable of deploying nuclear bombs. 
Belarus is Russia's principal regional ally and Russian forces used its territory to invade Ukraine at the start of the war. 
The two leaders met for talks on Monday as Russian troops prepare to conduct exercises in Belarus. This has caused nerves in Kyiv that the country could again serve as a base for a renewed assault on Ukraine. 
President Volodymyr Zelenskyy has said Ukraine is ready for all possible defence scenarios against Moscow and its ally. 
"Protecting our border, both with Russia and Belarus -- is our constant priority," Zelenskyy said after a meeting on Sunday of Ukraine's top military command. "We are preparing for all possible defence scenarios."
Officials in Kyiv have warned for months that neighbouring Belarus -- one of Russia's closest allies -- could join Russian forces and serve again as a launching pad for a new attack to form a second front in the months-long war. 
Belarus allowed its territory to be used as a launchpad for Moscow's February 24 invasion of Ukraine but has not joined the fighting directly. Lukashenko has said repeatedly he has no intention of sending his country's troops into Ukraine.
Russian troops that were moved to Belarus in October will conduct battalion tactical exercises, the Russian Interfax news agency reported, citing the Russian defence ministry.
2. Moscow rejects claims that Putin is pushing Belarus to enter the conflict
Moscow has denied that Putin's visit to Belarus was to push Minsk to engage more directly in the Ukraine war, the RIA Novosti news agency said.
Kremlin spokesman Dmitry Peskov claimed such reports were "groundless" and "stupid".
Putin's Minsk visit is his first there in over three years.
The Kremlin describes the Russian president's trip, his first to Belarus for three and a half years, as a broad "working visit".
3. Moscow unleashes 'kamikaze' drones on Kyiv
Russia launched a "kamikaze" drone attack on Monday, hitting key infrastructure in and around the Ukrainian capital, Kyiv.
In the third Russian air attack on Kyiv in six days, the Ukrainian Air Force reported that its air defences shot down 30 of 35 incoming drones.
Since October, Russia has been attacking key Ukrainian infrastructure and its power grid, causing widespread blackouts amid frigid winter weather conditions.
No one has died or been wounded in Monday's attacks, Kyiv's mayor said according to preliminary information.
"Air defence systems are at work in the region," Oleksiy Kuleba, governor of the Kyiv region said on Telegram. "Stay in shelters and safe places until the alarm is over. Take care of yourself and your loved ones."
Several loud blasts were heard, but it was not immediately clear whether they were air defence systems destroying the drones or drones hitting their targets.
4. Zelenskyy asks Western leaders for more weapons
Zelenskyy on Monday asked Western leaders meeting in Latvia, including UK PM Rishi Sunak, to beef up weapon supplies to help end the war sooner.
Western allies, led by the US, have been supporting Ukraine with funding, military training and weapons, but Kyiv has said still more was needed to allow them to win against Russia.
"A lot depends on you - how this war will end. The more successful our defence forces are, the faster the Russian aggression will fail," Zelenskyy said during his video link address to leaders of countries in the Joint Expeditionary Force, a British-led grouping of Northern European states.
"I ask you to increase the possibility of supplying air defence systems to our country, and to help speed up the relevant decisions to be taken by our partners," the Ukrainian President said, addressing Sunak.
"A 100% air shield for Ukraine. that would be one of the most successful stops against Russian aggression and this stuff is required right now," he added.
Without directly addressing the request, Sunak said that the leaders would be "talking about how best" to support Kyiv.
Zelenskyy also made a thinly veiled criticism of Germany — which is not part of the grouping and not present at the conference — saying "there is no explanation" why Ukraine is not supplied by German-made Leopard tanks.
The Joint Expeditionary Force is configured to respond swiftly to crises in northern Europe and is made up of Denmark, Estonia, Finland, Iceland, Latvia, Lithuania, the Netherlands, Norway, and Sweden.
5. Russian drones fly over Ukrainian nuclear plant, says Energoatom
Ukraine's atomic energy agency accused Russia of disregarding nuclear safety by sending a "kamikaze" drone over part of the South Ukraine Nuclear Power Plant in the Mykolaiv region shortly after midnight on Monday.
Energoatom claimed the Iranian-made Shahed drone had been detected at 00:46 over the station and said it was urging the international nuclear community to protect atomic sites from the fighting.
"This is an absolutely unacceptable violation of nuclear and radiation safety," Energoatom wrote on Telegram.
Russia currently occupies another Ukrainian nuclear power plant, the Zaporizhzhia complex, Europe's largest, near front lines in Ukraine's southeast. Talks are ongoing to establish a safety zone around the plant.
Both sides are accusing each other of endangering its safety and risking a nuclear incident.
In October, Putin issued a decree transferring the Zaporizhzhia plant from Energoatom to a subsidiary of Rosatom, a move Kyiv described as amounting to theft.