Ukraine war: Kherson liberation 'beginning of the end of the war', says Zelenskyy
Comments
By Euronews with AFP, AP, Reuters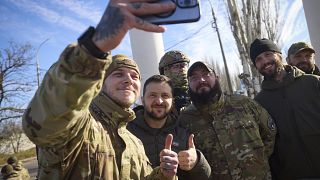 -
Ukrainian President Volodymyr Zelenskyy has made his first visit to Kherson since the southern city was recaptured.
He hailed the Russian withdrawal as the "beginning of the end of the war" but also acknowledged the heavy price Ukrainian soldiers are paying in their grinding effort to push back the invading force.
Zelenskyy walked the streets of the city Monday, just hours after warning in his nightly video address of booby traps and mines left behind by the Russians before their retreat.
"This is the beginning of the end of the war," he said. "We are step by step coming to all the temporarily occupied territories."
Zelenskyy has previously appeared unexpectedly in other front-line areas at crucial junctures of the war and his latest visit was both laden with symbolism and the common touch — clearly aimed at boosting the morale of both soldiers and civilians alike.
In a video published by a presidential aide, a visibly moved Zelenskyy stood with his right hand on his heart and sang the national anthem, as troops saluted and stood to attention and soldier steadily hauled the yellow-and-blue Ukrainian flag up a flagpole.
Other footage showed Zelenskyy waving to residents who saluted him from an apartment window and yelled: "Glory to Ukraine!" The reply — "Glory to the heroes!" — came back from Zelenskyy's group, made up of soldiers and others.
The president also distributed medals to Ukrainian soldiers in a central square and posed for selfies with them.
Russian army 'left behind savagery'
Kremlin spokesman Dmitry Peskov on Monday refused to comment on Zelenskyy's visit to Kherson, saying only that "you know that it is the territory of the Russian Federation." 
The Kremlin illegally annexed the Kherson region and three others earlier this year.
Russian forces withdrew from Kherson last week, allowing Ukraine's army to retake parts of the city on Friday.
In his nightly address on Sunday, Zelenskyy accused Russian soldiers of committing war crimes and "atrocities" during their eight-month occupation.
"Investigators have already documented more than 400 Russian war crimes, and the bodies of both civilians and military personnel have been found," Zelenskyy said.
"The Russian army left behind the same savagery it did in other regions of the country it entered," he went on. "We will find and bring to justice every murderer. Without a doubt."
Mass graves have been found in several places across Ukraine since the start of the invasion in February, including civilian bodies showing evidence of torture discovered in the Kharkiv region and in Bucha, near Kyiv. Russia denies its troops intentionally target civilians.
A United Nations commission in October said war crimes had been committed in Ukraine and that Russian forces were responsible for the "vast majority" of human rights violations in the early weeks of the war.
Russian shelling continues
The Ukraine Armed Forces' southern command said on Monday that Russian forces continued to "inflict fire damage on our troops and de-occupied settlements along the right bank of the Dnipro".
The governor of the Kherson region, Yaroslav Yanushevych, said the authorities had decided to maintain a curfew from 5 p.m. to 8 a.m. and ban people from leaving or entering the city as a security measure.
"The enemy mined all critical infrastructure," Yanushevych told Ukrainian TV. "We are trying to meet within a few days and (then) open the city," he said.
In an online post, Yanushevych warned people about reports of humanitarian aid arriving in Kherson's Freedom Square and urged people to steer clear of the centre of the city as demining operations were due to proceed there.
Zelenskyy also warned residents about the presence of Russian mines.
"I am asking you please not to forget that the situation in the Kherson region remains very dangerous," he said.
Kherson was the only regional capital Russia had captured since Moscow launched its invasion. Russia still controls about 70% of the wider region.
After Moscow's forces left Kherson, pro-Russian authorities issued an evacuation order to the Russian region of Krasnodar, near Crimea.
Jubilant crowds
The end of Russia's eight-month occupation of Kherson city has sparked days of celebration.
On Sunday, artillery exchanges echoing over Kherson failed to discourage crowds of jubilant, flag-waving residents bundled up against the cold from gathering on the city's main square.
A day earlier, villagers holding flowers waited on the road to Kherson to greet Ukrainian soldiers as they poured in to secure control of the right bank of the Dnipro River.
The recapture of Kherson marks Moscow's third major retreat of the war and the first to involve yielding such a large occupied city in the face of a major Ukrainian counter-offensive.
Zelenskyy reported that Ukraine had also detained some Russian soldiers who were left behind when their military commanders abandoned Kherson.
Ukrainian police have called on residents to help identify people who collaborated with Russian forces.
Zelenskyy has also promised that essential services will be restored.
"We are doing everything to restore normal technical capabilities for electricity and water supply as soon as possible," he said.
"We will bring back transport and post. Let's bring back an ambulance and normal medicine. Of course, the restoration of the work of authorities, the police, and some private companies are already beginning."
Kyiv has also thanked NATO and its other Western allies for their ongoing support in the war.
The United States will announce new sanctions against 14 individuals and 28 entities that have worked to procure military technologies for Russia's war in Ukraine, US Treasury Secretary Janet Yellen said on Monday.
Russia has managed to procure drones from Iran that have been used to attack cities and power infrastructure in Ukraine.