Protests in London over police shooting of unarmed black man Chris Kaba
Comments
By AFP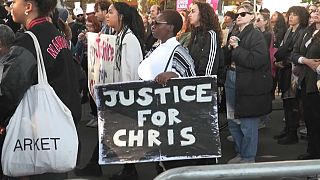 -
Hundreds of people protested in London on Saturday over the shooting of a young black man by police. 
The protestors gathered outside of Scotland Yard, the headquarters of London's Metropolitan Police. 
Chris Kaba, 24, was killed by police on 5 September in south-west London after his car was cornered by officers.
Firearms officers fired at Kaba, who was unarmed, according to the Independent Office for Police Conduct (IOPC). He was injured in the incident, but later died overnight in hospital.
His family called for a murder investigation, accusing the Met of racism. In a statement, they questioned whether Chris Kaba would have died "if he hadn't been black."
The IOPC -- which oversees complaints against police forces in England and Wales -- is investigating the incident, and will explore if race was a factor in his death. 
According to the IOPC, which opened the inquiry on 9 September, police pursued Kaba after the license plate of the vehicle he was driving was flagged by an automatic camera system. 
It linked the car to an incident involving firearms in previous days. 
The firearms officer who fired a single shot at Kaba has since been suspended from duty, according to the BBC. 
Kaba's cousin, Jefferson Bosela, called for the investigation to be completed quickly.  "We won't be waiting years for this," he said. "We want justice as soon as we can."
London Mayor, Sadiq Khan, said the IOPC "must go wherever the evidence takes them." 
"I fully understand the grave concerns and impact of Chris Kaba's death on black Londoners across our city, and the anger, pain and fear it has caused across our communities - as well as the desire for justice and change," he added. 
Two years ago, the arrest of black athlete Ricardo Dos Santos, his partner and their baby, in the midst of the Black Lives Matter protests, caused a scandal in the UK. 
The Portuguese runner was pulled over in London by seven armed officers, who he claimed had racially profiled him and then acted aggressively. 
The incident resulted in the opening of an investigation into racial discrimination within the police, concluding with disciplinary proceedings for five officers.