Ukraine war: Ukrainian army approaches Russian border, last Zaporizhzhia reactor shut down
Comments
By Euronews with AP, AFP, Reuters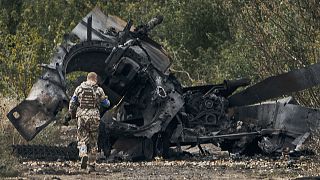 -
1. Ukrainian army claims its eastern offensive 'caught Russians by surprise'
Ukrainian troops on Sunday successfully pressed their swift counteroffensive in the northeastern part of the country, forcing the Russian units into withdrawal.
Ukraine's quick action to reclaim Russia-occupied areas in the northeastern Kharkiv region forced Moscow troops to pull back in a bid to prevent them from being surrounded and leave behind significant numbers of weapons and munitions in a hasty retreat as the war marked 200 days on Sunday.
The jubilant Ukrainian President Volodymyr Zelenskyy mocked the Russians in a video address late Saturday, saying that "the Russian army in these days is demonstrating the best that it can do — showing its back."
Ukraine's military chief, General Valerii Zaluzhnyy, said Sunday that Ukraine had liberated about 3,000 square kilometres since the beginning of September. 
Earlier on Saturday, Ukrainian officials said that their eastern counteroffensive took Russia by surprise as Moscow shifted a number of its units to the south, believing most of Kyiv's forces were headed in the direction of the key southern city of Kherson.
2. Russia retaliates with missile strikes, causing large-scale blackouts in Kharkiv, Donetsk regions
President Zelenskyy said on Sunday that Russia was responsible for the power cuts in eastern Ukraine and accused Moscow of deliberately hitting civilian infrastructure.
A major blackout was reported in the city of Kharkiv on Sunday evening, caused by a suspected bombing of the second-largest thermal power plant that is situated in the Kharkiv region. 
Kharkiv Mayor Ihor Terekhov condemned the attack, saying it was Russia's "cynical revenge" for the success the Ukrainian forces had in the region in recent days.
The city of about 1 million inhabitants before the February invasion is also said to be without water, as the water supply is also dependent on electricity, local outlets shared.
"A total power cut in Kharkiv and Donetsk regions, a partial one in Zaporizhzhia, Dnipropetrovsk and Sumy regions," Zelensky wrote in a statement on social networks, accusing Russia of deliberately striking civilian infrastructural targets.
"No military facilities, the goal is to deprive people of light and heat," he said.
Zelenskyy's deputy chief of staff Kyrylo Tymoshenko also shared a video purportedly showing the aftermath of Russian strikes on Kharkiv's infrastructure. In the video posted on social media channels, a large blaze can be seen in what resembles an electric power facility.
Ukrainian state railway company Ukrzaliznytsia also reported a number of train delays due to power outages.
Meanwhile, Ukraine's National Police on Sunday shared a video of the aftermath of shelling in the residential area of Pokrovsk, a city in the Donetsk region.
Pokrovsk was hit by 5 Iskander-type missiles, according to Ruslan Osipenko, head of the police of the Donetsk region.
There were a number of fatalities and pictures which showed damage to a large number of residential buildings.
3. Zaporizhzhia nuclear power plant's last working reactor switched off in a bid to prevent disaster
The last operating reactor at Ukraine's Zaporizhzhia nuclear power plant -- Europe's largest facility of its kind -- has been shut down to prevent possible meltdowns due to ongoing fighting in its immediate vicinity.
The move became possible after the site was reconnected to Ukraine's power grid, while the fuel needed for operating its diesel generators -- necessary for cooling the reactors while in so-called "island mode" -- has also been running low.
Fighting near the plant has fueled fears of a disaster like the one at Chornobyl in 1986, where a reactor exploded and spewed deadly radiation, contaminating a vast area in the world's worst nuclear accident.
The plant -- one of the 10 biggest nuclear power stations in the world -- has been occupied by Russian forces since the opening days of the war.
Ukraine and Russia have blamed each other for shelling around the plant, which has not damaged its six reactors or spent nuclear fuel storage but has repeatedly struck power lines and some auxiliary equipment.
Read more here:
4. German foreign minister pledges to stand with Ukraine during visit to Kyiv
German Foreign Minister Annalena Baerbock said Berlin's support for Ukraine would not falter in the face of reduced Russian energy supplies as she arrived on Saturday for her second visit to the Ukrainian capital, Kyiv.
"We will stand by Ukraine for as long as necessary," Baerbock said in a statement, adding that German support would include arms, as well humanitarian and financial aid.
In May, Baerbock became the first member of the German government to visit Kyiv since Russia launched its invasion of Ukraine in late February.
Germany, along with other European Union countries, is scrambling to support homes and industries burdened by a further surge in energy prices after Russia halted supplies through the Nord Stream 1 natural gas pipeline.
"(Vladimir) Putin is banking on us tiring of our compassion for Ukraine's suffering," Baerbock said.
"This plan will not and must not work out because all of Europe knows that Ukraine is defending our peace and security order," she added.
Baerbock said one focus of her visit was to offer Ukraine help to clear anti-personnel mines left by Russian forces in farmland and buildings -- a task she said could take decades.
5. UN accuses Russia of preventing access to Ukrainian war prisoners
The head of the UN human rights mission in Ukraine said on Friday that Russia is not allowing access to prisoners of war, adding that the UN had evidence that they have been subjected to abuse that could amount to war crimes.
Matilda Bogner told a Geneva news briefing that UN monitors had unimpeded access to Ukrainian facilities and had documented incidents of torture and ill-treatment of POWs by Ukraine, which may also amount to war crimes.
"The Russian Federation has not provided access to prisoners of war held on its territory or in territory under its occupation...," Bogner said.
"This is all the more worrying since we have documented that prisoners of war in the power of the Russian Federation and held by the Russian Federation's armed forces or by affiliated armed groups have suffered torture and ill-treatment."
"In terms of the treatment of prisoners of war, certainly some of the issues could rise to being war crimes — issues of torture and ill treatment of prisoners of war," she said in response to a question about the Russian-held prisoners.
Russia, which invaded Ukraine on 24 February, denies torture or other forms of maltreatment of POWs.
Kremlin spokesman Dmitry Peskov said he could not comment on the UN statement because Russian authorities did not have enough information. "We do not know who approached the military and whether they did," he told a news briefing.
Ukraine's General Staff did not immediately respond to a request for comment. Kyiv has previously said it checks all information regarding the treatment of POWs and will investigate any violations and take appropriate legal action.
Ukrainian prisoners are being subject to a "welcoming process" whereby they are forced to walk or run between rows of Russian guards who take turns severely beating them as they enter the facilities, Bogner said. 
Her team had also received information about Ukrainian prisoners suffering from infectious diseases including hepatitis A and tuberculosis in a penal colony in Olenivka, she said.
At the same briefing, she also urged Russia to release on humanitarian grounds four pregnant prisoners of war being held in Russian-controlled areas of Ukraine.
6. Zelenskyy to address US arms makers in appeal for more weapons
Ukrainian President Volodymyr Zelenskyy is scheduled to speak to US arms makers and military leaders on 21 September, when he is expected to make an appeal for more weapons for his country's defence against Russia, according to advance notice of the speech seen by Reuters.
Zelenskyy was set to speak by video link before a conference hosted by the National Defense Industrial Association in Austin, Texas, in his first-ever speech to the US defence industry.
Oleksii Reznikov, Ukraine's minister of defence, was also slated to appear at the Future Force Capabilities conference and appeal for support for the country's fight against Russia's invasion, now more than six months on.
The association's members include Raytheon Technologies and Lockheed Martin, which jointly produce Javelin anti-tank weapons that have been used by Ukraine.
Those companies and other top weapons makers, including Boeing, Northrop Grumman, General Dynamics Corp, and L3Harris Technologies, were present at an April meeting called by the Pentagon to discuss Ukraine's weapons needs.