Ukraine war: Zaporizhzhia 'near disaster', Russian cyberattacks, Finland sauna plea
Comments
By Euronews with Reuters, AP, AFP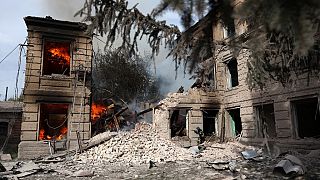 -
1. Zaporizhzhia power cut put Europe 'one step from radiation disaster', says Zelenskyy
The world narrowly avoided a radiation disaster as electricity to Ukraine's Zaporizhzhia nuclear power plant was cut for hours due to Russian shelling on Thursday, Ukraine's president has claimed.
Volodymyr Zelenskyy said the shelling sparked fires in the ash pits of a nearby coal power station that disconnected the reactor complex from the power grid.
Zelenskyy said the plant's emergency backup diesel generators had to be activated to supply the power needed to run the plant.
The power supply ensured by backup diesel generators is vital for cooling and safety systems at the plant, he said, praising the Ukrainian technicians who operate the plant under the watch of the Russian military.
"If our station staff had not reacted after the blackout, then we would have already been forced to overcome the consequences of a radiation accident," he said in an evening address.
"Russia has put Ukraine and all Europeans in a situation one step away from a radiation disaster."
Russia captured the plant in March following its full-scale invasion of Ukraine and has controlled it since, although Ukrainian technicians still operate it.
Germany condemned Russia's continued occupation of the plant. "The situation (there) is still very, very dangerous," a foreign ministry spokesperson said.
France's president Emmanuel Macron called on Friday for "civilian nuclear power" to be "fully protected" and not used as "an instrument of war" in reference to Zaporizhzhia.
"War must not under any circumstances undermine the nuclear safety of the country, the sub-region and all of us," the French president said.
But a Russian-appointed official in the nearby occupied town of Enerhodar blamed Ukraine's armed forces for a fire in a forest near the plant. He said towns in the area lost power for several hours on Thursday.
"This was caused by the disconnection of power lines from the Zaporizhzhia nuclear power station as a result of provocations by Zelenskyy's fighters," Vladimir Rogov wrote on Telegram. "The disconnection itself was triggered by a fire and short circuit on the power lines."
Zaporizhzhia's Russian-installed regional governor, Yevgeny Balitsky, also blamed the transmission-line damage on a Ukrainian attack.
Ukrainian state nuclear company Energoatom said it had been the first complete disconnection in the plant, which has become a hotspot in the six-month-old war.
The company said on Friday that electricity for the plant's own needs was being supplied through a power line from Ukraine's electricity system, and work to resume the operations of the plant's two functioning reactors was ongoing, with one now operating at 10% capacity.
Russia's Defence Ministry said on Friday that its forces had destroyed a US-made M777 howitzer which it said Ukraine had used to shell the Zaporizhzhia nuclear plant.
In its daily briefing, the defence ministry said the howitzer had been destroyed west of the town of Marganets, in Ukraine's Dnipropetrovsk region. The report could not be immediately verified.
Kyiv has strongly denied Russian claims that it targets the plant.
2. Massive Russian cyber attack against Montenegro govt, reports
Montenegro's security agency warned Friday that Russian hackers have launched a huge, coordinated cyberattack against the small nation's government.
The country facing a "hybrid war at the moment," said the Montenegrian Agency for National Security (ANB).
The Adriatic Sea state -- once considered a staunch Russian ally -- joined NATO in 2017, despite strong opposition from Moscow. It has also joined Western sanctions against Russia over its invasion of Ukraine.
Russia has classified Montenegro as an "enemy state" for acting against its interests, along with most other European countries.
The Montenegrin government reported a series of cyberattacks on its servers earlier in the week, but said it managed to prevent any damage. Attacks seem to be ongoing, however.
"Coordinated Russian services are behind the cyber attack," said ANB in a statement. "This kind of attack was carried out for the first time in Montenegro and it has been prepared for a long period of time."
Dusan Polovic, a government official, said "I can say with certainty that this attack that Montenegro is experiencing these days comes directly from Russia."
The US embassy in Montenegro warned its citizens in the Balkan state to be aware of a "persistent and ongoing cyberattack that is in process."
"The attack may include disruptions to the public utility, transportation (including border crossings and airport), and telecommunication sectors," it said.
3. Nuclear watchdog expected to visit Zaporizhzhia plant 'next week'
A mission from the UN's International Atomic Energy Agency (IAEA) is expected to visit the Zaporizhzhia nuclear power plant next week, Ukrainian officials said on Friday.
The United Nations has been seeking access to the plant and has called for the area to be demilitarised. IAEA officials are "very, very close" to being able to visit Zaporizhzhia, agency Director-General Rafael Grossi said.
Russia and Ukraine have accused each other of shelling the site, fuelling fears of a nuclear disaster.
Nuclear experts have warned of the risk of damage to the plant's spent nuclear fuel pools or its reactors. Cuts in power needed to cool the pools could cause a disastrous meltdown.
Zelenskyy's mention of the emergency generators being activated raised questions of whether the cooling systems were endangered.
Paul Bracken, a national security expert and professor at the Yale School of Management, said the concern was that artillery shells or missiles could puncture the reactor walls and spread radiation around potentially a large area, much like the 1986 accident involving the Chornobyl reactor.
A failure at the Zaporizhzhia plant could "kill hundreds or thousands of people, and damage environmentally a far larger area reaching into Europe," Bracken said.
"Russian roulette is a good metaphor because the Russians are spinning the chamber of the revolver, threatening to blow out the brains of the reactor all over Europe," Bracken said.
"Anybody who understands nuclear safety issues has been trembling for the last six months," Mycle Schneider, a consultant and coordinator of the World Nuclear Industry Status Report, said before the latest incident.
Ukraine cannot simply shut down its nuclear plants during the war because it is heavily reliant on them. Its 15 reactors at four stations provide about half of its electricity.
4. Shoigu's civilians claim 'deliberate misinformation', says UK intelligence
Claims by Russia's defence minister that Moscow had purposefully decelerated its military campaign in Ukraine to protect civilians have been dismissed by Britain's defence ministry.
Sergei Shoigu said on Wednesday that Russia had slowed its campaign to reduce civilian casualties — a claim that flies in the face of evidence on the ground and from Western intelligence.
"This is almost certainly deliberate misinformation. Russia's offensive has stalled because of poor Russian military performance and fierce Ukrainian resistance," the Ministry of Defence said in its daily intelligence update on Twitter.
"It is highly likely that Shoigu and President Putin have fired at least six generals for not advancing quickly enough."
Commenting on Wednesday's Russian missile strike on a railway station at Chaplyne that caused dozens of civilian casualties, the ministry said this "highlights Russia's willingness to cause collateral damage when it perceives there is a military advantage in launching missile or artillery strikes".
According to the Washington-based Institute for the Study of War (ISW), Russia has lost territory "larger than Denmark" since March during its war with Ukraine, and has only made "negligible gains".
5. The Hague to seek temporary exemption from EU sanctions on Russia
The Dutch city of The Hague has said it will ask for a temporary exemption of EU sanctions against Russia, as it struggles to find a replacement for its contract with Russian gas supplier Gazprom in time.
Sanctions imposed by the European Union against Russia following its invasion of Ukraine order governments and other public bodies to end existing contracts with Russian companies by 10 October.
For The Hague, this means it has to find a new supplier of gas to replace its existing agreement with Gazprom.
The city said it held an EU-wide tender in June and July, but failed to attract any bids from potential suppliers.
Individual talks with suppliers were certain to lead to an agreement, alderman Saskia Bruines wrote in a letter to the city council, but not before the Oct. 10 deadline.
"We will ask for an exemption for our current arrangement until Jan. 1 2023 to guarantee the safety of supply and to facilitate negotiations," she said.
Bruines said she was confident the delay would be granted, as The Hague had fulfilled the condition of holding a timely tender without a positive result.
However, she added that any new contract set to enter into effect on Jan. 1 would be significantly costlier than the city's current arrangement with Gazprom.
A spokesperson for the European Commission could not immediately comment on the report.
The Hague is one of many Dutch municipalities that have an energy contract with Gazprom, but is the first to indicate it will ask for an exemption to the sanctions.
6. Spend less time in the sauna to save energy, Finns urged
A nationwide campaign in Finland to save energy is calling on people to reduce their usual heating temperature by one degree next winter and cut down on the time they spend in the shower and their beloved saunas.
The campaign, called "one degree less", is due to be launched on 10 October, Kati Laakso, a spokeswoman for Moriva, the state agency for the promotion of sustainable energy, told AFP.
It comes as Russia's invasion of Ukraine - a major supplier of gas to Europe - has sparked a major energy crisis.
Finns will be encouraged not only to turn down their usual heating temperature by one degree and take fewer showers, but also to spend less time in their saunas.
Steam baths are a real institution in Finland, where there are some three million saunas for 5.5 million inhabitants. Finns are used to taking these baths naked and together at a temperature of around 85 degrees Celsius.
Finns will also be encouraged to stop heating their garages and to use their connected objects as little as possible.
"These are just possibilities. We hope that people will understand that we have a difficult winter ahead of us and will voluntarily follow this advice," emphasised Kati Laakso.
"People probably don't need to go to the sauna every day, maybe once a week would be enough," she argued.
This is the first time a nationwide campaign to save energy has been launched in Finland since the oil crisis of the 1970s.
Russian energy giant Gazprom stopped gas deliveries to Finland in May after the Finnish government refused to pay in rubles as required by Russia.
By 2021, Gazprom had supplied two-thirds of Finland's gas consumption, but only 8% of its total energy consumption.
Gasum, the Finnish state-owned company, is now trying to diversify its supply, including by sourcing more from Estonia.