French election: Six key takeaways as Macron falls short of an absolute majority
Comments
By Euronews with AFP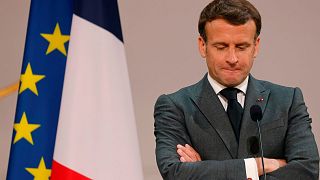 -
Copyright

Ludovic Marin/Copyright 2021 The Associated Press. All rights reserved
A victory with a taste of defeat: President Emmanuel Macron's Ensemble alliance emerged as the largest parliamentary group following the second and final round of the legislative elections — but well short of an absolute majority in the face of the strong breakthrough of the united left as well as the far-right National Rally.
Amid fears that political deadlock could make France ungovernable, the president has invited leaders of rival parliamentary groups to the Elysée Palace on Tuesday and Wednesday, proposing "dialogue" in the "national interest" to try to find solutions, according to his entourage.
1. Macron's alliance wins — except it does not
Emmanuel Macron's Ensemble alliance has lost its absolute majority in the French parliament, just two months after he was re-elected as president. 
At the end of the second round of elections on Sunday, Macron's candidates won 245 seats, ahead of the left-wing coalition Nouvelle Union Populaire Ecologique et Sociale (NUPES) with 131 and the far-right National Rally which made a historic breakthrough with 89 seats. 
Yet, Ensemble's result fell short of the 289 seats needed for an absolute majority, while neither of the two other major groups seem remotely interested in a coalition government.
This could mean that Macron's camp might have to contend with ruling with a minority in parliament or cohabiting with a prime minister and government from a different camp.
Prime Minister Elisabeth Borne said the "unprecedented" situation "is a risk to our country faced with challenges at the national level as well as at the international scale".
Borne, who was only appointed in May, will face a "motion of censure" from the opposition in early July and her job is far from secure having scraped a narrow win in her own constituency.  
Several of Borne's ministers out of the 15 that were up for election have lost their seats, including health minister Brigitte Bourguignon, who lost by a mere 56 votes in an extremely tight race.
France's sea minister, Justine Benin, was defeated in Guadeloupe, and green transition minister Amélie de Montchalin also lost.
Other Macron's allies, including his former spokesperson Christophe Castaner, who most recently served as interior minister until 2020 and Assembly president Richard Ferrand were also among those who admitted defeat after 20h on Sunday.
Europe minister Clément Beaune survived, as well as former health minister Olivier Véran.
Véran was reelected in Isère by a comfortable margin, stating on Sunday night that Ensemble will "constitute an absolute majority very quickly".
Emmanuel Macron now faces the realities of a National Assembly with two hostile opposition groups as he tries to push through important reforms — including on pensions, tax cuts and raising the retirement age -- all of which will be nearly impossible to do without a coalition partner.
"We will have to show a lot of imagination" to govern, admitted economy minister Bruno Le Maire.
2. French vote fragments further with left coalition front and centre
The Macron camp's main battle will be against a powerful united left coalition NUPES and its leader, the hard-left veteran Jean-Luc Mélenchon, who labelled Sunday's results as "the electoral failure of Macronie".
He was particularly pleased that his camp managed to take out the likes of Castaner and Ferrand, stating it represented "a total rout of the presidential party" on Sunday night.
Although Mélenchon will most likely have to give up on his ambition of being prime minister, with 141 seats, NUPES, which gathered the likes of Communists and Greens under its banner, is far more diverse and powerful that the 17 seats Mélenchon managed to secure in 2017.
Mélenchon, who himself did not run in the election, vowed to keep the bloc together, branding it a "rebellion [which] now has a face". However, his call on Monday for his alliance to form one parliamentary group immediately ran into trouble, with the Socialists, Greens and Communists all rejecting the idea. 
NUPES will most likely strongly oppose Macron's reforms, having platformed on actually lowering the retirement age from 62 to 60 and return of wealth taxes on people and companies.
3. Le Pen's party goes from 6th to 3rd in unprecedented result
One of the biggest shocks of the election's final round was the 89 seats won by a much-strengthened Rassemblement national, or National Rally (RN). It will now form the biggest far-right group in any French parliament since World War II.
The polls after the first round last Sunday gave the far-right nationalist party of Marine Le Pen — comfortably re-elected in her northern stronghold of Hénin-Beaumont with about 61% of the vote — a maximum of 45 seats.
However, Le Pen — who lost the April presidential run-off to Macron — managed to profit from the very vocal duel between Ensemble and the left, campaigning in the background to an unpredictable gain.
Unlike Ensemble and NUPES, she will also be at the helm of the biggest party in the Assembly, with many believing that Le Pen will now turn to using the parliament as her main platform for political action.
RN also easily crossed the threshold needed to form a parliamentary group, which allows for more means and speaking time. 
The far-right party had only succeeded to do so once in its history, from 1986 to 1988 — when it was known as the National Front — thanks to proportional representation.
The meteoric rise of RN, which had only eight seats in 2017 and two in 2012, when it was the 9th party in the parliament, has also overshadowed earlier sharp criticism of Le Pen's close relations with Russian President Vladimir Putin, an image she worked hard to shed since Moscow's invasion of Ukraine in February.
Marine Le Pen has long formed a bond with voters who see her as being on the same wavelength over everyday problems. But she is a leader who remains hostile to the EU and NATO, whose campaign this year advocated a security alliance with Russia, and who in 2017 cited the policies of Donald Trump and Vladimir Putin as those she most admired.
4. Republicans lose ground but envisage influential role
Although the 61 seats won on Sunday by the right-wing Les Républicains or Republicans (LR) might seem like a good result, its 7% of the vote won represents a further loss of popularity of the pro-European Gaullist party once led by the likes of Nicolas Sarkozy and originally founded by Jacques Chirac.
LR went from being part of the second-strongest political force together with UDI in the Assembly in 2017 with 112 seats to a mere fourth, the party — which did not shy away from forming alliances with Macron's centrists in the past — echoed the result of its April presidential candidate Valérie Pécresse, who ended up fifth with 4,79% of the vote in the first round.
Party chairman Christian Jacob admitted the LR's underwhelming result was "a stinging failure" while pointing a finger at Macron, who was widely seen as paying the price of playing the country's far-left and far-right against each other.
But the Republicans have also failed to mobilise their conservative voters, with traditional messaging and a lack of a strong leader since Sarkozy proving costly for a once political powerhouse.
However, despite their decline, Macron's lack of a majority could amplify the Republicans' influence as the president's group seeks votes in parliament. A debate has already begun with Republican ranks over the nature of the role they should play.
5. Turnout melts away under heatwave
The parliamentary election — the fourth in two months after the presidential election — was largely ignored by the French as parts of the country were suffering from an unprecedented heatwave, affecting the final round's turnout. 
The turnout of 46.23% saw more than half of some 48.5 million registered voters abstain, with young voters reported as being particularly disinterested in showing up at the polling stations.
Although the turnout was somewhat up from the record low in 2017 (42.6% in the second round), the long electoral sequence in France that began on 10 April was also seen as one of the reasons for the exceptional result of the French political extremes, with those undecided choosing to stay at home.
6. Danger of prolonged political paralysis
The results of the election raise the spectre of weeks of negotiations as Macron's group attempts to form a coalition or minority government. Failure will likely mean the president's movement has to resort to trying to win over individual members of opposition parties to pass legislation.
Prime Minister Élisabeth Borne's position is particularly vulnerable. She was only appointed a month ago as Macron sought to appeal to left-wing voters who backed him in the presidential election to keep Le Pen out. 
But the president's would-be allies in the new parliament beyond his own movement, if there are any, are likely to come from the right.
There is a danger the French political scene will enter a more prolonged period of paralysis, at a time of war in Ukraine, with the domestic economy increasingly under strain, and with the climate emergency demanding  immediate action.