Woman in hospital after armed suspect attacks a school in Germany
Comments
By Euronews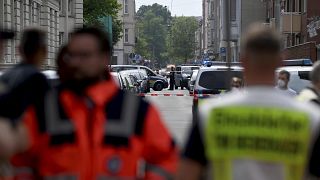 -
One woman has been hospitalised after an attacker opened fire at a school in Germany, say police.
It happened in Bremerhaven -- 90 kilometres west of Hamburg in the country's northwest -- on Thursday morning.
Police say they have made one arrest, a 21-year-old armed suspect.
The extent of the woman's injuries is unclear at this stage.
"The students are in their classrooms with their teachers," said police in a statement. "The police have the situation on site under control. Police measures are continuing."
Police were reportedly alerted by a student at the Lloyd Lloyd Gymnasium secondary school after she heard gunshots.
"The armed person was detained and is in police custody," police said in a statement.
"The weapon used by the suspect is the subject of a police investigation," police added. "We cannot currently confirm that there is a second suspect."
In January, a student was killed and three others were wounded in a shooting in a lecture hall at the southwestern university of Heidelberg.