Ukraine war: Moldova fury at Russian general's 'unacceptable' remark on territorial war aim
Comments
By Euronews with AP, AFP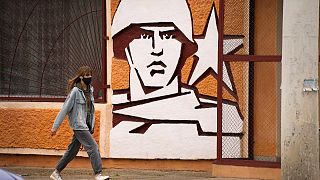 -
Copyright

AP Photo/Dmitri Lovetsky, File
Russian forces have now shifted their focus to the offensive in the eastern Donbas region of Ukraine.
Heavy shelling and fighting has continued in the east as Russia's army attempts to establish control over the region.
See a summary of latest updates from Ukraine in our blog below and watch our TV coverage in the video player above.
04.22.2022
07:18
Friday's key points:
Moldova summoned the Russian ambassador in protest at a Russian general's comments that Moscow wants to capture southern Ukraine to gain access to a breakaway Moldovan region 

Russia aims to 'establish full control over Donbas', a Russian general says

UN accuses Russia of actions that 'could amount to war crimes,' claiming its armed forces have 'indiscriminately bombarded and shelled populated areas'

No evacuation of Mariopul was planned on Friday, with Zelenskyy saying some 120,000 civilians are still trapped in the city

Ukrainian official says fighting has not stopped at the besieged Azovstal steal mill where the country's fighters are holding out. Putin previously told Russian forces not to storm the industrial site and instead seal it off

Russia FM blames Ukraine for halted peace talks, saying 'they have put up with their destiny' 

Satellite images released Thursday show what appeared to be mass graves near Mariupol, with local officials accusing Russia of burying up to 9,000 Ukrainian civilians in an bid  to conceal the slaughter in the besieged port city

At least 594 children killed or injured due to war in Ukraine, country's parliament says

The future of the war depends on Mariupol, claims regional govenor on Friday 

UK PM Boris Johnson believes the war in Ukraine could last until the end of 2023, while an EU officials says Russia will now step up attacks in Ukraine

EU Council President calls Putin and urges the creation of a humanitarian corridor out of Mariupol 
04.22.2022
21:26
Russia cracks down further on critics of invasion
Russian authorities have opened a criminal case against prominent opposition activist Vladimir Kara-Murza for allegedly spreading "false information" about the country's military.
Kara-Murza -- a former associate of assassinated Russian opposition leader Boris Nemtsov -- has repeatedly denounced Russia's invasion of Ukraine.
His lawyer reported on Friday that Kara-Murza had been taken in for questioning at the Russian Investigative Committee headquarters. He has denied any wrongdoing.
Russian media reported that similar charges were also being drawn up against exiled tech executive Ilya Krasilshchik, the former publisher of the independent news site, Meduza.
The moves against the two Kremlin critics are part of a wideneing crackdown against opponents of Russia's war in Ukraine.
(Reuters)
04.22.2022
19:07
'Concerned' Moldova summons Russian ambassador
Moldova has said it is deeply concerned by comments made by a Russian general surrounding its sovereignty, while summoning the country's ambassador.
On Friday, Moldova summoned Russia's ambassador to protest against statements a Russian general made that Moscow wanted to capture southern Ukraine to gain access to a breakaway Moldovan region. 
This statement by General Rustam Minnekayev made Moldova "deeply concerned," the country's foreign ministry said. 
It called for respect of its "territorial sovereignty" and "neutrality."
Minnekayev said at a defence industry event earlier Friday that broader control of Ukraine would open the way to the Russian-backed breakaway region of Transnistria, in Moldova.
Transnistria broke away after a short civil war in the early 1990s and is unrecognised by most countries. An estimated 1,500 Russian soldiers have been stationed there since the civil war.
Since Russia launched its attacks on Ukraine on Feb. 24, fears have grown that Moldova could be next in Russia's crosshairs. Moldova is not a member of the European Union or NATO.
The war has prompted Moldovan officials to try to speed up the country's bid to join the 27-nation EU, which it applied to do last month. The process, however, will likely take many years.
04.22.2022
18:59
'This is not a fairy tale,' EU official says Russia will step up military attacks in Ukraine 
A senior EU official has said Russia will increase its military offensive in eastern Ukraine and along the coast, saying "this is not a fairy tale with an imminent happy ending."  
"I think we are likely to see a very significant increase in the intensity of Russian military attacks in the east, I think we are likely to see an intensification of Russian military attacks along the coast," they said. 
The official added that the "next couple of weeks" will be decisive for the war in Ukraine, which began in February. 
04.22.2022
18:25
UN chief to meet Putin
UN Secretary-General Antonio Guterres will travel next week to Russia where he will be received by Vladimir Putin, in what is their first meeting since the outbreak of the Ukraine war. 
"On Tuesday, April 26, UN Secretary General Antonio Guterres will arrive in Moscow for talks with Russian Foreign Minister Sergey Lavrov," the Kremlin announced Friday. 
"He will also be received by President Vladimir Putin," it added. 
04.22.2022
18:02
Russian tanker seized in Greece released after change of ownership
Greece's Coast Guard announced Friday it will release a Russian tanker seized on Tuesday under EU sanctions over the Ukraine war.
"The ship has been released and is free to go," said a spokeswoman for the Greek Coast Guard. 
Pegas, a 115,000-tonne tanker, which was carrying Iranian oil, has been freed by the Greek authorities as it is no longer subject to EU sanctions, having changed owners. 
The tanker was due to sail to the Turkish port of Marmara, and has since been anchored in Karystos, in the south of the Greek island of Euboea, according to the international maritime traffic website Marine Traffic. 
Nineteen Russians are on board.
It has been renamed Lana, said the coast guard spokeswoman, although the identity of the new owner is unclear. 
(AFP)
04.22.2022
17:17
"Thanks to technology, I know where my AirPods are now. It was looted by Russian Orcs from my home," said Vitaliy Semenets.
04.22.2022
17:02
Peace talks between Russia and Ukraine are 'slipping', says Russian FM 
Negotiations between Moscow and Kyiv aimed at resolving the war in Ukraine are "skating," says the Russian Foreign Minister. 
Sergey Lavrov made the remarks on Friday, with the talks not leading to any apparent progress.
"They are slipping, because a proposal that we handed over to the Ukrainian negotiators five days ago, and which was formulated taking into account their comments, remains unanswered," he said. 
It is not clear what this proposal was. 
(AFP)
04.22.2022
16:35
'Fighting, shelling, bombing did not stop' in Azovstal plant, says Mariupol official
Attacks on the steel mill in Mariupol where Ukrainian fighters are holding out against Russia have not stopped, said a city official. 
"Every day they drop several bombs on Azovstal, despite false promises not to touch the defenders," said Petro Andryushchenko, an adviser to Mariupol's mayor, on Friday. 
"Fighting, shelling, bombing do not stop," he added. 
Earlier in the week, Vladimir Putin told Russian forces to lay siege to the last Ukrainian fighters in Mariupol rather than storming the steel mill where they are holding out.
He ordered his troops to do so "in such a way that not a single fly would pass."
The Azovstal plant, on the Sea of Azov,  is the last stronghold of Ukrainian forces in Mariupol, which the Russians have sieged for nearly two weeks now.
Ukrainian authorities have estimated that 1,000 civilians are inside the plant along with the fighters.
(AP)
04.22.2022
16:12
West accused of 'pumping' weapons into Ukraine by Russian embassy
Russia's embassy in Iceland has accused Western states of trying to "actively stuff Ukraine with heavy armament," in a statement. 
"It seems that neither Europe nor the US wants peace in Ukraine, prompting Kyiv to fight till the last Ukrainian," Friday's statement read, with the Embassy criticising the actions of the Icelandic government.