Nazanin Zaghari-Ratcliffe arrives back in UK after Iran release
Comments
By Euronews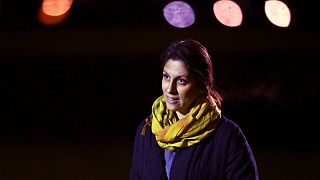 -
British charity worker Nazanin Zaghari-Ratcliffe has arrived back in the United Kingdom after being released from detention in Iran.
Zaghari-Ratcliffe hugged her husband and seven-year-old daughter after landing at Brize Norton airbase in the early hours of Thursday.
On the same flight was retired civil engineer Anoosheh Ashoori, who was also released after the UK settled a decades-old debt to Iran.
"Looking forward to a new life,″ said Richard Ratcliffe, who had worked tirelessly for his wife's release. "You can't get back the time that's gone. That's a fact. But we live in the future.″
Zaghari-Ratcliffe was taken into custody at Tehran's airport in April 2016 as she was returning home to Britain after visiting her family in Iran. She was employed by the Thomson Reuters Foundation, the charitable arm of the news agency, but she was on vacation at the time of her arrest.
She was sentenced to five years in prison after she was convicted of plotting the overthrow of Iran's government, a charge that she, her supporters and rights groups deny. She had been under house arrest at her parents' home in Tehran for the last two years.
Ashoori was detained in Tehran in August 2017. He had been sentenced to 12 years in prison for alleged ties to Israel's Mossad intelligence agency, something long denied by his supporters and family.
On Wednesday, British MP Tulip Siddiq posted a photo of Nazanin on a plane flying back to the United Kingdom.
"It's been a very tense time, a lot of anxiety, a lot of stress," said Leanna Burnard, a legal officer at Redress, which has been providing legal representation for Nazanin and her family since 2016.
"Until Nazanin was actually on a flight and on her way home, her family couldn't be confident," Burnard told Euronews.
British Foreign Secretary Liz Truss told lawmakers that the change of government in Iran last summer had been instrumental in moving the talks forward. President Ebrahim Raisi is a hard-line protégé of Iran's supreme leader known for his hostility to the West.
"I was able … to reset the relationship, to be clear that we were serious about resolving the outstanding issues that Iran had, and they were clear they were serious about resolving the outstanding issues we had," Truss said in the House of Commons.
Extensive diplomacy secured the release of the dual nationals and led to an agreement to repay the debt in a way that complies with UK and international sanctions. Britain agreed to pay Iran 393.8 million pounds ($515.5 million), which will be ring-fenced so the money can only be used for humanitarian purposes. The British government declined to offer details of the arrangement.
While the British government has refused to acknowledge a link between the debt and the detention of the dual nationals, Zaghari-Ratcliffe's husband has been outspoken in arguing that Iran was holding her hostage to force Britain to pay.