Ukraine war: Russian invasion 'could turn into World War III', PM Shmyhal says
Comments
By Euronews with AP, AFP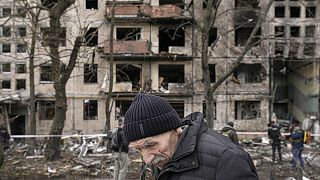 -
Copyright

AP Photo/Vadim Ghirda
Addressing the Council of Europe on Monday, Ukrainian Prime Minister Denys Shmyhal said that "what Putin has started in Ukraine could turn into World War III",
Claiming that Moscow's possession of nuclear weapons is a threat that could see Europe and the rest of the world "set on fire", Shmyhal demanded "an immediate expulsion" of Russia from the human rights organisation.
Read the latest updates in our live blog below:
03.14.2022
17:45
Monday's main developments:
The Kremlin has warned that Russia doesn't rule out launching military assaults to take full control of major Ukrainian cities "that are already surrounded", Putin's spokesman Dmitry Peskov spokesperson said on Monday afternoon.

Russian Foreign Minister Sergey Lavrov said he will embark on a trip to Qatar, Saudi Arabia and the UAE in a bid to "engage in economical cooperation" after the Western allies hit Moscow with unprecedented sanctions for its invasion of Ukraine.

The US says Russia has asked China for military help for the war in Ukraine. The claim comes ahead of a key meeting in Rome between senior American and Chinese security officials on Monday.

The Russian military said it killed up to 180 "foreign mercenaries" in strikes on Sunday against the Yavoriv military range, a number that could not be independently confirmed.

An Orlan-10 reconnaissance drone was found in a field in Romania, days after a much larger Tu-141 drone crashed in the Croatian capital Zagreb. It is still unclear whether either of the two belongs to the Ukrainian or Russian forces.

More than 2.8 million people have now fled Ukraine since the Russian invasion began, say the latest figures from the UN migration agency and refugee agency.
03.14.2022
22:47
Residents in capital city Kyiv resist Russian invasion as strikes hit residential areas
While half of the residents in Kyiv have fled the city, those who have stayed are involved in resisting the Russian invasion, Euronews correspondent Anelise Borges reports, even as Russian artillery strikes hit the capital.
People prepare meals for resistance fighters and soldiers attempt to protect buildings from potential attacks. Their common goal is to prevent Russian soldiers from encircling the city.
See Anelise Borges' report here.
03.14.2022
21:52
Fox News reporter injured near Kyiv

Fox News reporter Benjamin Hall was injured while reporting outside of Kyiv on Monday and was hospitalized, the network said.
Hall is a Washington-based correspondent who covers the US State Department for Fox News, where he has worked since 2015.
"We have a minimal level of details right now, but Ben is hospitalized and our teams on the ground are working to gather additional information as the situation quickly unfolds," Fox News Media CEO Suzanne Scott said in a message to Fox employees.
Fox's John Roberts read Scott's statement about Hall on the air at Fox.

(AP)
03.14.2022
21:22
Russian anti-war protester interrupts state news broadcast: media reports
An anti-war protester interrupted a Russian state TV news broadcast to denounce the war in Ukraine in a stunning move against the government's efforts to stop criticism of the invasion.
Video footage posted on social media showed the woman holding a sign that read "Stop the war. Don't trust the propaganda. They lie to you here" in front of Russia's Channel One news presenter Yekaterina Andreyeva.
Russian newspaper Novaya Gazeta, whose editor-in-chief was the recipient of a Nobel Peace Prize, reported that the woman had interrupted a television news broadcast. In a tweet, they showed a photo of the protester but covered up her anti-war poster, adding that they were not allowed to show it due to a new Russian law that prohibits criticism of the war in Ukraine, with offences punishable by up to 15 years in prison.
Pavel Chikov, a human rights lawyer in Russia, tweeted that the woman was named Marina Ovsyannikova and that she had been detained since protesting on the broadcast. She appears to be an editor at Channel One in Russia.
Kevin Rothrock, an editor for the English-language edition of Meduza, tweeted out a photo of the anti-war protester on Russian television.
03.14.2022
20:39
Slovakia expels three Russian diplomats for alleged spying and bribery
Slovakia's Foreign Ministry says it will expel three Russian diplomats for alleged spying and bribery.
The ministry said in a statement that the decision was made after officials had assessed information from the country's intelligence services.
The three diplomats were based at the Russian embassy in the capital of Bratislava but must now leave the country by Thursday.
03.14.2022
20:08
US and Chinese envoys have 'substantial discussion of Russia's war against Ukraine'
US national security advisor Jake Sullivan and Chinese Communist Party Politburo Member Yang Jiechi held a "substantial discussion of Russia's war against Ukraine", the White House said in a statement.

The meeting was held in Rome, Italy and the two envoys emphasised the importance of "maintaining open lines of communication between the United States and China," the White House added.

It came following reports that Russia requested military support from China to continue its war in Ukraine but Russia has denied it needs China's help.
03.14.2022
19:55
Ukraine calls for Russia's expulsion from the Council of Europe
Ukraine demanded Russia's "immediate expulsion" from the Council of Europe on Monday.

Such a move would be a historic move for the organisation which monitors human rights on the European continent.

Ukrainian Prime Minister Denys Shmyhal, speaking by videoconference during an extraordinary session of the Parliamentary Assembly of the Council of Europe (PACE), asked the council to make a decision on the "immediate expulsion" of Russia.

The organisation's executive is set to meet on Thursday.

Shmyhal called on the parliamentarians of the 46 member states of the Council present to "unite (their) efforts to defend Ukraine, but also to defend all of Europe".

(AFP)
03.14.2022
19:39
How Russia could cut itself off from the global Internet, and why it probably won't
In the weeks since Russia launched its invasion of Ukraine, the country's government, led by President Vladimir Putin, has moved to tighten its grip on the flow of information about the war.
It has targeted social media, blocking Twitter, Facebook, and Instagram. Russian media outlets have been targeted by a new law that threatens closure and even jail time for spreading so-called "fake news" about the war.
Now, the censorship of information about the invasion of Ukraine has fuelled speculation that the Russian government is planning to take its control of information online to the next level - by cutting the country off from the global Internet.
03.14.2022
19:37
More than 2.8 million people have fled Ukraine, UN says
More than 2.8 million people have fled Ukraine in the wake of Russia's invasion, according to the UN refugee agency.

The vast majority of them are seeking refuge in Poland, which has taken in more than 1.7 million refugees in the last 19 days.

(AP)
03.14.2022
18:50
TV tower attack kills nine people, Ukrainian authorities say
A Russian rocket attack on a television tower in the western village of Antopol on Monday morning killed nine people, according to the governor of the Rivne region.
The village is only about 160 kilometres from the border of NATO member Poland.
Ukrainian authorities also said two people died and seven were injured after Russian forces struck an aeroplane factory in the capital of Kyiv and that two people were killed in the northern Obolonskyi district of the capital when the Russian artillery fire hit a nine-story apartment building.
They said a Russian airstrike in the capital's downtown area on Monday killed one person and wounded six others.