Ukraine war: NATO's refusal to set up a no-fly zone over Ukraine 'a sign of weakness'
Comments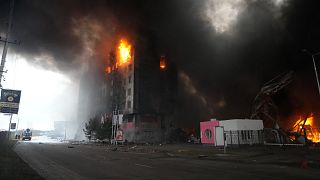 -
It's now the 10th day of Russia's invasion of Ukraine, which was launched by President Vladimir Putin on February 24.
03.05.2022
20:31
The key points to know from Saturday
Ukraine's statehood is in jeopardy and sanctions on Russia akin to declaring war, says Putin.
NATO's failure to set up a no-fly zone over Ukraine is a "sign of weakness", says Ukraine's foreign minister.
NATO says such a move would risk a wider war in Europe. 
Ukraine's president makes a 'desperate plea' to US lawmakers for planes and drones.
Russian forces advance on a third nuclear site. Radiation levels at Zaporizhzhya, Europe's largest, are normal, says IAEA.
The next round of talks between Russia and Ukraine will take place on Monday. 
On Saturday, Russia said it would allow the evacuation of civilians from Mariupol and Volnovakha. But evacuations were postponed in Donetsk Oblast amid claims Russian troops had violated the ceasefire. 
Battles have continued northwest of Kyiv and heavy strikes have hit Kharkiv and Okhtyrka. Ukrainian forces were said to be still holding Chernihiv in the north.
The UN Human Rights Office said that 351 Ukrainian civilians have been killed since the beginning of the invasion.
More than 1.3 million people have fled Ukraine since Russia's invasion began 10 days ago. 
Facebook and Twitter are blocked in Russia. Other independent media have also been forced off-air. 
03.05.2022
20:30
Should NATO set up a no-fly zone over Ukraine?
03.05.2022
22:58
Thanks and goodbye
Thank you for your company today as we've been bringing you the latest from the Ukraine war. 
Join us from 9 am on Sunday for more. 
03.05.2022
22:52
More than 1.3 million have now fled Ukraine
More than 1.3 million Ukrainians have fled their homeland in just over a week, the latest figures from the UN Refugee Agency (UNHCR) reveal.
In the 10 days since Russia's invasion, 1.37 million people have left Ukraine.
Of those that left between 24 February and 4 March, more than half went to Poland. Hungary and Moldova were the second most popular choices.
03.05.2022
22:15
Russian soldier fires weapon at Kherson protest
This was the scene in Kherson, a city in southern Ukraine that is under Russian control. 
The verified footage shows locals protesting on Saturday. 
Loud bangs are heard as some jump small fencing and walk towards the city's Svobody Square.
Further verified footage shows a Russian soldier firing his weapon in the air when confronted by a crowd at the same location.
Люди в Херсоне проводят митинг под пулями #Украина#UkraineWarpic.twitter.com/siU2BsHJ5F

— Алексей Кириленко (@Kirilenko_a) March 5, 2022
03.05.2022
21:51
Ukraine's statehood 'in jeopardy'
Ukraine's statehood is in jeopardy and sanctions on Russia are like "declaring war", Vladimir Putin claimed on Saturday. 
Putin continued to pin the blame for all of it squarely on the Ukrainian leadership and slammed their resistance to the invasion.
"If they continue to do what they are doing, they are calling into question the future of Ukrainian statehood," he said. "And if this happens, it will be entirely on their conscience."
He also hit out at Western sanctions that have crippled Russia's economy and sent the value of its currency tumbling.
"These sanctions that are being imposed, they are akin to declaring war," he said during a televised meeting with flight attendants from Russian airline Aeroflot. "But thank God, we haven't got there yet."
03.05.2022
21:02
Russian forces 'advancing' on third nuclear reactor
Russian forces have now seized two Ukrainian nuclear power plants and are advancing toward a third, Ukraine's president said during a call with US senators Saturday.
Volodymyr Zelenskyy said the third plant currently under threat is the Yuzhnoukrainsk nuclear power plant, located 120 kilometres (75 miles) north of Mykolaiv, one of several cities the Russians were trying to keep encircled Saturday.
One of the plants under the Russians' control is the Zaporizhzhia nuclear plant in the southeastern city of Enerhodar, the biggest nuclear power plant in Europe. The other is Chernobyl, which is not active but is still staffed and maintained. Previous Russian shelling sparked a fire at the Zaporizhzhia plant that was extinguished without a release of radiation.
Technical safety systems are intact and radiation levels are still normal at the Zaporizhzhia plant, according to the country's nuclear regulator, the International Atomic Energy Agency said Saturday.
03.05.2022
20:40
Next round of Russia-Ukraine talks on Monday
03.05.2022
20:28
Lack of no-fly zone 'a sign of weakness'
NATO's failure to set up a no-fly zone over Ukraine is a sign of weakness, according to the country's foreign minister.
Dmytro Kuleba made the claim to his US counterpart Antony Blinken, who he met at the Ukraine-Poland border today. 
"It's a sign of weakness," he said. "It is the Ukrainian people who will pay the price of NATO's reticence to react."
He also reiterated an earlier claim from Ukraine's president, Volodymyr Zelenskyy, that the country was in need of fighter jets and air defence systems.
03.05.2022
20:01
Protests held in cities worldwide against the war
Residents of Kherson, the southern Ukrainian city currently under Russian control, took to the streets to demonstrate against the presence of the Russian troops.
Russian soldiers fired warning shots but the protest continued.
Several thousand people also gathered in Paris at the Place de la République, to show their support for Ukraine and to demonstrate their opposition to the Russian invasion.
Similar scenes were also observed in Lisbon, London, Zurich and Tokyo.