French President Emmanuel Macron announces candidacy for reelection
Comments
By Euronews with AFP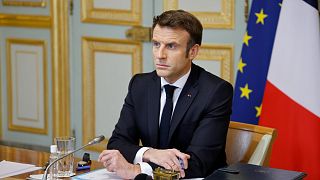 Copyright

Ludovic Marin, Pool via AP

-
French President Emmanuel Macron has confirmed his bid for reelection with a "letter to the French" on Thursday evening.
In his 1,000 word letter published on the websites of the regional daily press, Macron wrote that "we are experiencing upheavals of unprecedented speed: threats to our democracies, rising inequalities, climate change, demographic transition, technological transformations. Let us make no mistake: we will not respond to these challenges by choosing to withdraw or by cultivating nostalgia. It is by looking at the present with humility and lucidity, by not giving up any of our audacity, our will and our taste for the future that we will succeed. The challenge is to build the France of our children, not to rehash the France of our childhood.
"This is why I am asking for your confidence for a new mandate as President of the Republic. I am candidate to invent, with you, a unique French and European response to the challenges of the century. I am candidate to defend our values, which are threatened by the world's upheavals. I am candidate to continue to prepare the future of our children and grandchildren. To enable us today and tomorrow to decide for ourselves," he added. 
The head of state, currently mobilised by the war in Ukraine, waited until the last moment to make his candidacy for a second term official, which candidates must formalise before Friday evening.
With 38 days to go before the first round, Macron thus officially became president-candidate and will be able to kick off a campaign disrupted by Russia's invasion of Ukraine.
Macron is the last candidate to declare and his decision to wait was strongly criticised by his rivals, who accused him of covertly campaigning through his role and thus not abiding by campaigning rules.
'We stood our ground'
The invasion of Ukraine, he himself acknowledged on Wednesday evening in an address on the war, "has impacted our democratic life and the electoral campaign".
The war is also having an impact on the polls, which show that it favours the incumbent, as is often the case in times of crisis.
Since the beginning of the invasion of Ukraine by Russia eight days ago, he has gained several points in voting intentions, with the polls giving him 27-28%, some ten points ahead of his far-right rival, Marine Le Pen (RN), who is widening the gap with Valérie Pécresse (LR) and Eric Zemmour (Reconquête!).
The majority of French people approve of Macron's action since the beginning of the conflict, according to polls.
Before this crisis began, he was already high in the voting intentions, largely ahead of his opponents, also reaping the benefits of his management of the COVID-19 pandemic and his "whatever it takes" policy, generally welcomed by the French.
Macron said in his letter that "rarely has France been confronted with such an accumulation of crises" as over the past five years, citing the pandemic but also terrorism and war in Europe.
"We stood our ground and never gave up," he wrote, defending his record at the helm of the country. He touted that "unemployment has reached its lowest level in fifteen years", and said investments were made in hospitals and research as well as law enforcement. He also defended his decision to lower taxes.
He conceded however that "we have not succeeded at everything. There are choices that, with the experience I have acquired with you, I would no doubt make differently."
But he claimed that "the transformations undertaken during this mandate have enabled many of our compatriots to live better, and France to gain in independence. And the crises we have been going through for the past two years show that this is the path that must be followed."
Schools, taxes, and ecology
He said his priorities over the next mandate would be to invest in education to fight against inequalities, to slash taxes further and boost investments in research and development "in order to place France at the forefront of sectors such as renewable energies, nuclear power, batteries, agriculture, digital technology and space, which will shape the future and enable us to become a great ecological nation, the first to be freed from dependence on gas, oil and coal."
He also said he plans to defend "our French uniqueness" which he said "means promoting a certain way of being in the world."
Macron's announcement comes as no surprise as he himself has alluded to it several times and his entire campaign team has not hidden that everything was ready.
But he noted that he "will not be able to campaign as I would have liked because of the context".
"Together we can make these times of crisis the starting point of a new French and European era," he added.
If he wins the second round on 24 April, he will have achieved a feat never before achieved in the history of the Fifth Republic: to be re-elected by direct universal suffrage without emerging from a period of hung government, as François Mitterrand and Jacques Chirac had done.
But his position as favourite remains fragile. Recent polls show him winning the second round against all his opponents, including the best-placed Marine le Pen, but with a smaller lead than in 2017.