Western allies impose sanctions on Russia, as Putin gets the green light to deploy troops
Comments
By Euronews with AP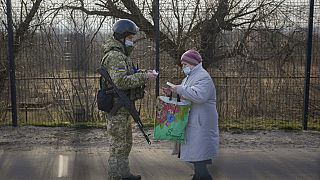 Copyright

Vadim Ghirda/Copyright 2022 The Associated Press. All rights reserved.

-
Western allies imposed a raft of sanctions against Russia on Tuesday, in response to Russian recognition of two breakaway republics in the east of Ukraine.
Britain unveiled a "first tranche" of sanctions against Russian entities and individuals on Tuesday, with the EU announcing its own sanctions targeting economic, political, military, business and media sectors.
Meanwhile Germany said it is halting certification of the Nord Stream 2 gas pipeline, a vital energy connection for Russia, as US President Joe Biden announced a new round of American sanctions against Russian oligarchs and banks.
Follow all of Tuesday's key developments here:
02.22.2022
06:17
The key points to know
Russian President Vladimir Putin on Monday night recognised the independence of the so-called Donestk People's Republic and Luhansk People's Republic — two separatist-held areas in eastern Ukraine.
He signed a decree to dispatch Russian troops for "peacekeeping functions" in the regions.
Ukrainian President Volodymyr Zelenskyy told the nation in a televised address: "We are not afraid of anyone or anything".
The UK and EU announced a raft of sanctions against economic, political, military, business and media sectors.
President Biden says the US will redeploy some US troops in the region, and target Russian finances with sanctions.
Germany is halting certification of Nord Stream 2 gas pipeline, a vital energy connection for Russia.
The EU says it has prepared contingency plans in case of an exodus of refugees from Ukraine.
02.22.2022
22:55
That's the end of our Ukraine-Russia live blog for Tuesday. We'll be back on Wednesday morning with all the latest overnight news. 
02.22.2022
20:52
President Biden announces sanctions against Russian oligarchs and banks
US President Joe Biden announced the US was ordering heavy financial sanctions against Russian banks and oligarchs on Tuesday, declaring that Moscow had flagrantly violated international law by invading Ukraine.
"None of us will be fooled" by Russian President Vladimir Putin's claims about Ukraine, the US President said. And he said more sanctions could be on the way if Putin proceeds further.
Biden said he was also moving additional American troops to the Baltic states on NATO's eastern flank bordering Russia.
President Biden joined the 27 European Union members who unanimously agreed on Tuesday to levy their own initial set of sanctions targeting Russian officials over their actions in Ukraine.
02.22.2022
20:48
Ukraine's Defence Minister in Washington for talks with US Administration
Ukrainian Defence Minister Dmytro Kuleba is in Washington today for talks with senior members of the US Administration.
Kuleba met his American counterpart Lloys Austin at the Pentagon after the White House began referring to Russian troop deployments in eastern Ukraine as an "invasion."

Austin told Kuleba it was an honor to meet with him at "this critical, critical moment in history" and that "Russia's latest invasion is threatening the peace, security and prosperity of Ukraine and of the transatlantic community."
Adding, "The US support for Ukraine's self-defense, sovereignty and territorial integrity is unwavering."
Kuleba told Austin that Ukraine does not want war with Russia, and he was in Washington on a diplomatic mission to help resolve the tensions in his country.

"I'm looking forward to discussing with you the continuation of our partnership", and a "strong Ukraine is the best deterrence of Russia" he said. 

The Biden administration was initially hesitating to use the term "invasion" - a red line that President Joe Biden has said would result in the US levying severe sanctions against Moscow. However on Tuesday Jon Finer, the principal deputy national security adviser, said "We think this is, yes, the beginning of an invasion, Russia's latest invasion into Ukraine."
Minister Kuleba also had a meeting with President Biden. According to a White House statement, Biden promised to keep providing Ukraine "with security assistance and macroeconomic support." 
02.22.2022
20:41
Northern Europe 'Joint Expeditionary Force' members meet to discuss regional security situation 
Defence Ministers from ten northern European countries met in England on Tuesday to discuss the regional security situation in light of Russian actions against Ukraine. 
The countries form the Joint Expeditionary Force (JEF) which was set up by the UK in 2014 and now includes Denmark, Estonia, Finland, Iceland, Latvia, Lithuania, Netherlands, Norway and Sweden. 
"The JEF gives us the ability to act collectively in an agile and responsive way to meet the variety of security challenges we face, however they arise, in that part of Europe we call home" the group said in a statement after talks. 
"We call on Russia to de-escalate and encourage them to engage in transparent dialogue, including through the OSCE and the NATO-Russia Council, in order to reduce tensions."
The JEF will are planning to conduct naval exercises in the Baltic Sea in the coming weeks to demonstrate "solidarity, capability, and resolve to stand together for security and stability in our region."
Five of the JEF nations share external borders with Russia.
02.22.2022
20:02
Poland says heavy sanctions should be inflicted on Russia
Polish leaders welcomed Germany's suspension of the Nord Stream 2 pipeline Tuesday but want to see tougher measures against Russia for its actions against Ukraine.
Speaking at a press conference Prime Minister Mateusz Morawiecki called Nord Stream 2, built to carry Russian gas to Germany under the Baltic Sea but not yet in operation, a "harmful and dangerous geopolitical project."
The leader of Poland's ruling Law and Justice party, Deputy Prime Minister Jaroslaw Kaczynski, described the suspension as "better than nothing but still much too little." He said he thought that Nord Stream 1, a similar pipeline that has been in operation for years, should also come into play.
"You cannot provide a very aggressive state with resources constantly so that it can increased its armed forces," Kaczynski argued. Poland has warned that Nord Stream 2 would strengthen Russia's hold on an energy-hungry Europe, giving it political leverage over the West.
The Polish government also approved a homeland defense bill which increases military spending. The government had previously announced plans for the legislation but approved the bill as Russian President Vladimir Putin pursued authorization to use military force outside his country, which could presage a broader attack on Ukraine.
Polish Defense Minister Mariusz Blaszczak was among the European leaders saying that Moscow had already sent its forces into eastern Ukraine.
"Only serious sanctions can halt the rebuilding of the Russian empire by Vladimir Putin," he said.
02.22.2022
19:39
Russia announces evacuation of diplomatic staff from Ukraine
The Russian Foreign Ministry has announced it will evacuate staff from its embassy in Kyiv, and from consulates in Odessa, Lviv and Kharkiv. 
The announcement came on the ministry's official Telegram social media channel on Tuesday evening, saying "in order to protect their lives and safety, the Russian leadership has decided to evacuate the personnel [...] as soon as possible." 
"Our first priority is to take care of the Russian diplomats" the post said. 
The ministry also said that Russian diplomatic premises in Ukraine had been "repeatedly attacked" since 2014, the year Russian-backed forces annexed Ukraine's Crimea region. 
"Provocations have been regularly staged against the Russian Centre for Science and Culture in Kyiv, causing damage to the health of its head, as well as damage to the Centre's property." 
02.22.2022
18:21
EU making contingency plans to cope with any influx of refugees from Ukraine
The European Union is getting ready to take in refugees from Ukraine, as fears grow that Russia's military aggression could soon cause a wave of migrants seeking shelter in EU countries.
Poland, a neighbouring country, has said it is willing to host them.
Speaking to Euronews from Warsaw, Ylva Johansson, the European Commissioner for home affairs, said contingency plans are already in place.
"The focus has been on the contingency planning for the very dangerous situation in Ukraine. We don't know what would be the next step of Putin, but we have to be prepared if there will be a massive inflow of refugees of Ukrainians into the European Union. And Poland is, of course, a key country here," she said.
"We are looking into the support from the EU asylum agency with processing asylum applications, the support from Frontex with registration and border management, and the support from Europol as well."
Johansson avoided giving figures on how many asylum-seekers the bloc was expecting in case of a military invasion but stressed the EU's unity was "very strong and determined."
02.22.2022
17:57
Russia 'continues to plan for a full-scale attack on Ukraine', NATO chief says
NATO Secretary General Jens Stoltenberg says that Russia is giving "every indication" that it continues to plan "for a full-scale attack on Ukraine." 
Speaking to journalists at NATO headquarter in Brussels after a meeting of the NATO-Ukraine Commission, Stoltenberg said Russia had "promised to step back, but they have continued to step up." 
The NATO chief, a former prime minister of Norway, said they are seeing more Russian forces moving out of camps in combat formations, and called incidents in Donbas "false flag operations" where Russia tries to "create a pretext for an attack." 
Stoltenberg confirmed that Russian troops moved into Donbas and parts of Donetsk and Luhansk after President Putin gave a speech in Moscow on Monday where he formally recognised the two breakaway republics in eastern Ukraine. 
Calling on Russia to de-escalate the situation and engage in diplomatic efforts to find a solution, Stoltenberg said "it's never too late to not attack."