Valtònyc: Belgium to appeal against court refusal to extradite Spanish rapper
Comments
By AFP with Euronews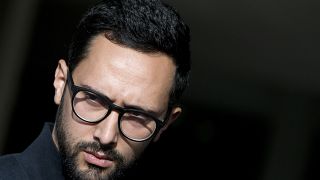 -
Copyright

AP Photo/Virginia Mayo, File
Belgian prosecutors say they will appeal against a court's refusal to extradite the Spanish rapper Valtònyc.
The musician -- born José Miguel Arenas Beltran -- has been a refugee in Belgium since 2018 after being convicted in Spain.
Valtònyc was sentenced to three-and-a-half years in prison for writing lyrics that praised terror groups, insulted the Spanish royal family, and threatened a Spanish politician with violence .
The charges relate to song lyrics released in 2012 and 2013 such as "let them be afraid like a civil guard in the Basque Country" and "the king has an appointment in the town square with a rope around his neck."
Spanish judges said the words were "unquestionable" apology for the Basque pro-independence group ETA, an armed organisation in Spain that disbanded in 2011.
The European Union classifies ETA as a terrorist organisation and Valtònyc has been the subject of a European arrest warrant since May 2018.
But on Tuesday, the Court of Appeal in Ghent ruled that the 28-year-old musician should not be extradited to Spain -- a decision that the Belgian state will appeal, according to the public prosecutor's office.
In 2018, a Ghent court had also rejected the extradition warrant, after ruling that Valtònyc's actions did not break any Belgian law.
Two years later, the European Court of Justice found that Spain had no valid procedure to extradite the rapper, as his offenses were not punishable by at least three years' imprisonment in 2013.
The Belgian Constitutional Court also ruled that an 1847 law punishing "offenses against the King" was unconstitutional.
The singer's lawyer, Simon Bekaert, has welcomed the latest decision as a "clear victory ... for freedom of expression".
"Both the European Court of Justice and the Belgian Constitutional Court have already ruled on two partial aspects of the case," Bekaert added, denouncing future appeal by prosecutors.
"There are abuses of the European arrest warrant. The Belgian justice system is being asked to decide on a purely political case," said Paul Bekaert, another of the rapper's lawyers.
As he left the hearing, Valtònyc -- who is originally from Mallorca and sings in Catalan -- also praised the Ghent Court of Appeal.
"I am free, and no longer only on parole. I made music when I was 18, I am not a terrorist and the courts have ruled in my favour," he said on Tuesday.
"There are European standards of rights ... Spain is not just about parties and beaches, it is also about the number of artists in prison," the rapper added.